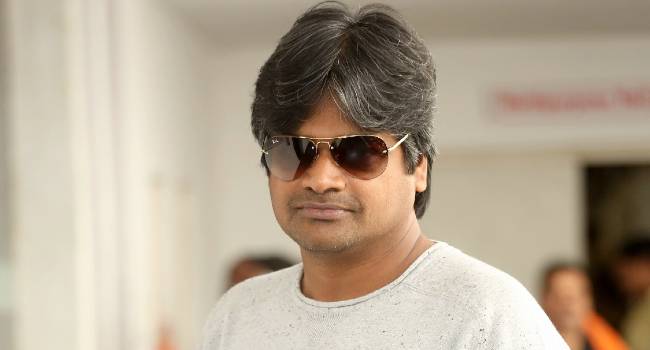 "I don't waste my time discussing a person who lacks credibility."
"I feel sorry for Ganesh on forgetting his name, and for his baseless comments."
"It is an honor to remake a movie that I like rather than 'free'making it."
"Dil Raju garu didn't hide the fact he's getting married again. Then why would I hide if I was present at the ceremony."
Like the powerful dialogues that we hear in his movies, director Harish Shankar delivers 'quotable' catchphrases in his interviews. Not one to mince words, the director of 'Gabbar Singh' and 'Duvvada Jagannadham' puts his views forth effectively. Harish Shankar is also an avid reader, has a taste for music. We called up the director to find out what he was up to during the lockdown, and the director spoke on various issues. An exclusive chat …
What's your routine like these days?
'Quarantine' has now become a buzzword but much before the lockdown was imposed we have been doing the same. The thing that we do between two projects is also working (Memu Work ki work Madhya chese pani kooda pane). Due to lockdown, I am working on the script of Pawan Kalyan's movie. Besides that, director Krish and I have collaborated to produce, pen, and direct a couple of web dramas. Work is underway but modalities are yet to be finalized.
How did you get the chance to direct Pawan Kalyan after a gap of eight years? Did you approach him or he called you up?
Producer Naveen garu (Mythri Movie Makers) had plans of producing a film with Pawan Kalyan. He proposed my name to Pawan Kalyan. Thus I went to meet him and narrated a basic storyline, which Pawan Kalyan liked it and gave nod.
Have you given him the final draft?
No, not yet. I am working on that.
In 'Gabbar Singh', Pawan Kalyan played a cop. What would be his role in this?
It is too early to talk about the movie.
What is the genre?
It is a pucca entertainer.

You are known for writing powerful dialogues. Plus, 'Gabbar Singh' had memorable dialogue writing. Can we expect more punch dialogues now?
All I can say, the dialogues will be remembered for a long time. I wrote 'Gabbar Singh' as a fan of Pawan Kalyan and I am aware of what things fans would expect from me. This film will satisfy them all-round. Pawan Kalyan has okayed this story based on the characterization of his role that I narrated. It will be unique.
When you'd directed 'Gabbar Singh', he didn't float a political party. Nor was he a full-time politician. But now he is president of the Jana Sena party and has a different image?
He has always been socially conscious. With 'Kushi' itself, he had acquired that image though he was not a politician. Our film will not touch upon politics but the story will reflect his image and his ideology undercurrent.
You have roped in Devi Sri Prasad again. Is it for sentimental value?
No. I have a long association with DSP. He had given the best music for our 'DJ'. He was to compose music for 'Gaddhalakonda Ganesh' as well but it didn't work out.
Your announcement of DSP as a music director for this new film on the occasion of completion eight years of Gabbar Singh also created a new controversy. Producer Bandla Ganesh commented that it was he who gave chance to direct 'Gabbar Singh' when you were struggling to get offers.
Anadaniki emundi andi evaraina emaina anochu… atanu Anjaneyulu, teenmaar teesi road meediki vaste nene gabbar singh chance iccha ani anochu…kani nenu ananu…edukante adi naa samskaram kaadu. Gabbar singh naku kalyan garu icharu..daaniki first naga babu garu producer.
(Anyone can say anything. Even I can say that I gave him a life with Gabbar Singh when he tasted duds like 'Anjaneyulu' and 'Teenmaar'. But I don't talk that way since that is not my nature or culture. I am indebted to Pawan Kalyan and Naga Babu. 'Gabbar Singh' was originally planned by Naga Babu as the producer).
oka dil raju garu, allu aravind garo, oka mythri Naveen garo edaina comment cheste..ayyo mana daggara edaina tappu undemo ani nannu nenu sarididukunta …kani ikkada evari credibility enti, evarinitiki evaru vellaro, evaru emi chestamannaro adariki telusu kada…credibility leni vyaktula gurinchi matladi nenu time waste chesukonu.
(If Dil Raju, Allu Aravind, or Mythri Naveen make any comments against, I would take them seriously and correct myself. We all know who has credibility and who lacks it, who went to the whose house to plant news. I don't waste my time talking about a person who has zero credibility.)
Besides that, everyone including general audiences knows how I began my career, who gave me the first break. I began my career in the movie industry, not in a software company. My debut movie 'Shock' got released in 2006 and you know when the said person's first movie 'Anjaneyulu' (2009) hit the screens. Who gave life to whom?
Honestly speaking, I missed Bandla's name in my tweet in a hurry to announce DSP's name. I immediately rectified it in my next tweet. I feel sorry for Ganesh on forgetting his name and for his baseless comments.

You have directed seven films. Out of them, only two are remake movies (Gabbar Singh and Gaddhalakonda Ganesh). Still, some are commenting that you are only capable of handling remakes.
As you said, 'Mirapakay', 'DJ', 'Subramanyam for Sale' are not remakes and they are also money-spinners. Why should I care about some silly comments? Let me put it this way, "Aina Freemake chesukovadam kante remake cheyyadam gouravam kada."
I am kind of a person who gives a credit to even if I borrow a single scene from other writers. When one of my assistants, Rajasekhar wrote a dialogue about Brahmanandam in 'Gabbar Singh', I mentioned his name in the credits.
You have good taste in music. All your movies are musical blockbusters. How do you extract the best from the music directors?
My father is a great music lover. He introduced me to the songs of RD Burman and Kishore Kumar. Plus, I am a big fan of Ilayaraja. I equally enjoy music sessions with the music directors. I give the best inputs to them and the rest is done by the music directors.
How did you convince that Mickey J Meyer would deliver the mass tracks for 'Gaddhalakonda Ganesh'?
I had worked with him for 'Subramanyam for Sale'. Though we didn't extract the best numbers for that film, I was sure that he'd deliver what I wanted for 'Valmiki' (which was later titled 'Gaddhalakonda Ganesh). He has a similar approach to the music of the film that we hear about AR Rehman. He gives his best according to the genre.
There is talk about that all stars and directors should cut their remunerations post the lockdown period to sail through this crisis. Also, the production cost should be reduced. Will you agree to this?
I am an optimistic person. I am pretty sure that we will overcome this crisis and things will become better. Even my detractors will agree that I will make films within budget limits. Regarding remuneration, when the industry was booming I didn't demand a high amount, why would I not agree for a cut now if industry bigwigs decide the same?
We heard that you were the first choice for the remake of 'Lucifer' but you reportedly turned it down?
There are hundreds of websites that I speculate about various combinations. Why would I turn down a chance to direct Megastar Chiranjeevi?
Is it true that you and Anil Ravipudi attended Dil Raju's wedding ceremony?
How can you ask me about such baseless rumors? (laughs) Dil Raju garu didn't hide the details about his marriage. He tweeted about it. If we went there, you all would have spotted us in photos as well.
If you were asked to remake a classic movie, what would be your choice?
Rowdy Alludu.
Why did you shelve 'Daagudu Moothalu?
The film is about two pairs. I had worked on the project for nearly one and half years but the casting was the main reason I had to put it aside. It was not shelved. I will take it up sometime later.
Due to lockdown, all projects are getting delayed. Pawan Kalyan's two movies might not finish on time. Will you wait or take up any other movie?
I will not take up any other movie. I have to finish the script of Pawan Kalyan's movie. As I said before, I might involve with the web series but no other movies till I wrap up Pawan Kalyan's.
Did you think about making a Pan-India film?
I have plans for making a film in Hindi. I got a chance to direct Akshay Kumar but it didn't work out somehow. I have received some offers in Bollywood, and I also tried for some projects but they didn't materialize for various reasons. Hopefully, it materializes someday.
Name 5 favorite books (Telugu)
Katha Ramanaeeyam by Mullapudi Venkata Ramana
Kathalu Gathalu by Chellapilla Venkata Sastry
Maa Pasalapudi Kathalu by Vamsy
Anando Brahma and Prema by Yandamuri Veerendranath
Creativity Unleashing the forces within by Osho
Which are the movies you love the most?
Sagara Sangamam
Mayabazar
Sholay
DDLJ
It's A Wonderful Life
Life is Beautiful
Interstellar
Rowdy Alludu
Donga Mogudu
Who are the directors that you get inspired by?
Priyadarshan for the visuals, entertaining narration, sensibilities. Shankar for the grandeur, filming of songs and command over the script. Martine Scorsese for depicting the psychological behavior of the protagonists.
Name best albums written by Veturi?
Sagara sangamam is all-time favorite
Geetanjali
Shankarabharanam
(I regularly update the lyrics of Veturi on my social media, you can check for more clarity)