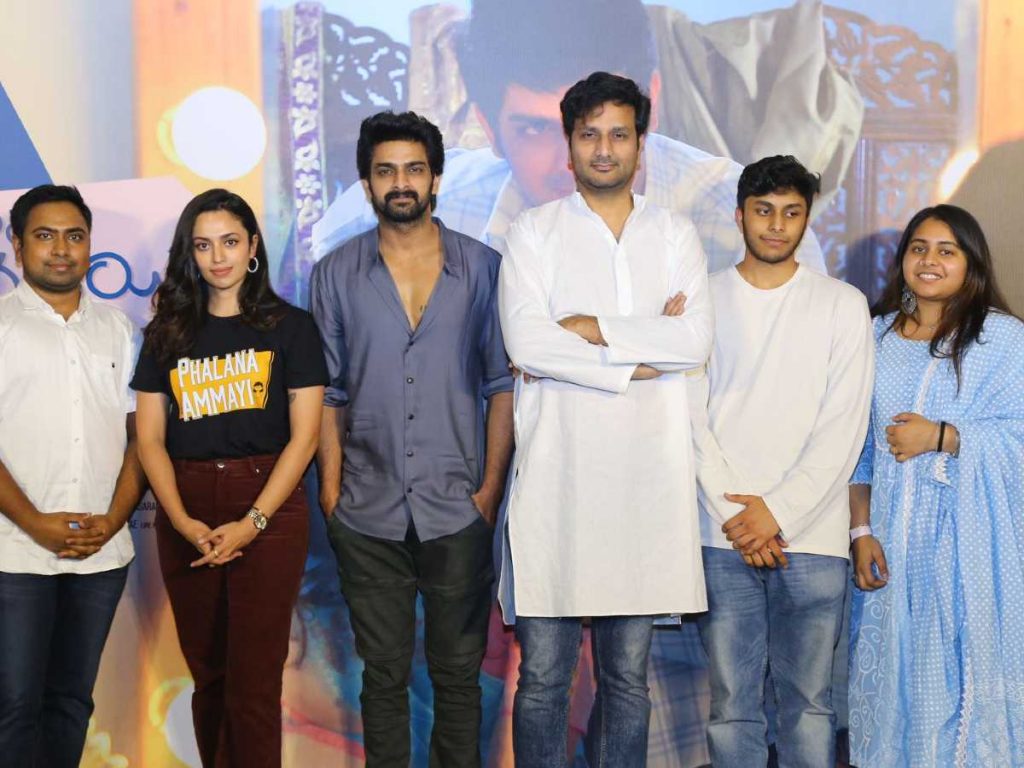 Phalana Abbayi Phalana Ammayi (PAPA) is Srinivas Avasarala's comeback film with his trademark comedy, emotion, and classical touches. This is the third film of Naga Shourya under Srinivas Avasarala's direction. So, expectations are sky-high. Their previous outings Oohalu Gusagusalade and Jyo Achyutananda are hilarious and tug at the heartstrings. PAPA also brings Naga Shourya and Malavika Nair together for the second time. The cute pairing, the looks, and the sparkling chemistry shall be the highlight of the film. The makers released the official teaser for the film today.
About the launch event:
The teaser launch is graced by cast and crew members Naga Shourya, Malavika Nair, Srinivas Avasarala, Shreyas, Kiran, Kalyani Malik, Sri Vidya, Sowmya, Abhishek, Sunil Kumar, Bhaskarabatla, Lakshmi Bhupal, and others.
Cinematographer Sunil Kumar said it's a dream come true to work with director Srinivas Avasarala. Shreyas of Dasari productions thanked the team for their efforts. Editor Kiran wanted to be crisp and said thanks in a funny way.
Music director Kalyani Malik said, "I feel privileged to get any Srinivas Avasarala films. The songs I composed for his films always came out well. You'll definitely love all the songs of PAPA. 50% of the credit goes to singers and lyric writers".
Lyric writer Bhaskarabatla praised the director for the literature values in the film. Then about Kayani Malik on great music for the film. Another lyric writer Lakshmi Bhupal compared Srinivas Avasarala and Kalyani Malik combo with that of Vamsi and Ilaiyaraja. "There are great songs in the movie, and I too contributed to the lyrics", he added.
Director Srinivas Avasarala put forward an interesting thing about PAPA. He remarked, "We planned to make the film in collaboration with inputs from the cast and crew. We tried to make it more conversational. Sound is recorded on sets and most of the lines are impromptu. Everyone on the stage are my collaborators". That makes PAPA a first-of-its-kind film made with a collaborative effort in terms of scripting the film.
Malavika Nair thanked everyone and said, "I began my journey in 2016 and thanks to all the supporters and well-wishers on the stage. PAPA is Sanjay and Anupama's love story. There are highs and lows in the film. So, watch and enjoy it".
Hero Naga Shourya sharing his experience:
Naga Shourya grabbed a lion's share of the speeches as he spoke to the end. He said, "I am happy to get a good launch from Srinivas Avasarala back in those days, and now I have done 23 films. No one else can recreate the magic of Avasarala. And I can't do a much better film than PAPA. Thanks to editor Kiran who travelled to London and showed us the edits. Lakshmi Bhupal is more like a family now and supported me in my journey. Bhaskarabatla's songs are always hits in my films. Kalyani Malik took all the songs to next level. Cinematographer Sunil shot beautiful frames in a minimalistic way. Malavika has an amazing screen presence and always love to work with her".
(press release)