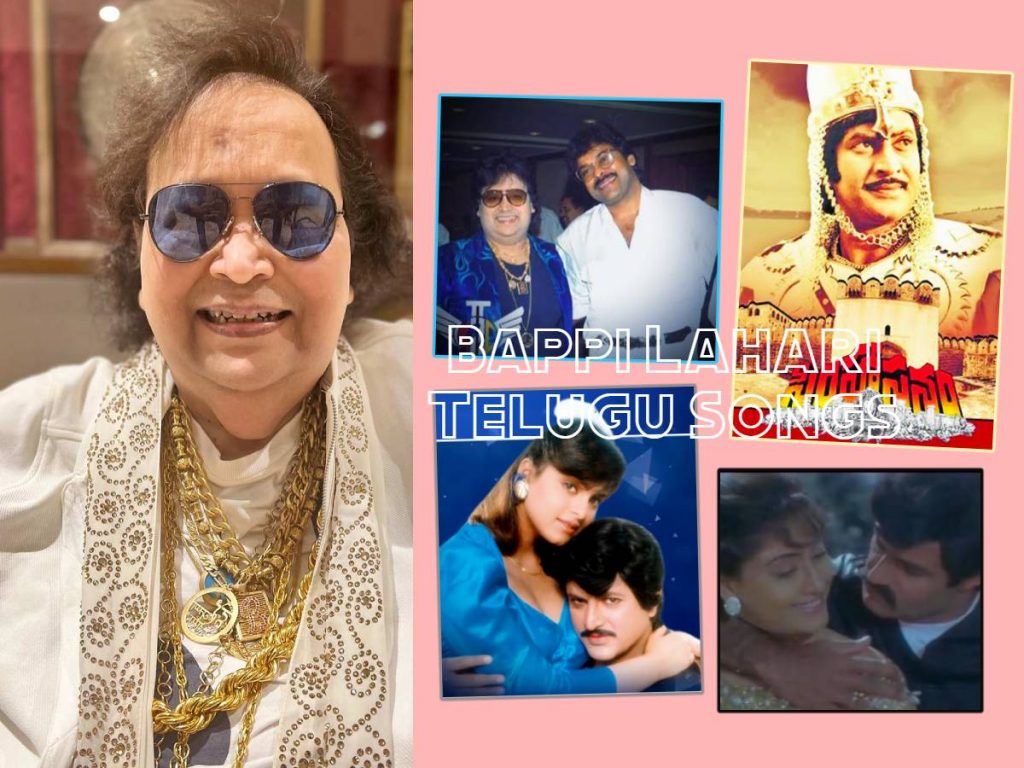 Legendary music director Bappi Lahiri redefined the music in Bollywood and Bengali films. He set a new trend in Telugu cinema as well. He had composed more than 25 films, and his songs played a key role in the success of many films. 'Simhasanam', 'Gang Leader', and 'Rowdy Gaari Pellam' were examples of his music contributing the immense success.
Chiranjeevi paid rich tributes to the disco king. "Deeply anguished at the demise of legendary music director and singer Bappi Lahari. I had a great association with Bappi Da. He gave numerous chartbusters for me which contributed immensely to my films' popularity."
"Saddened to hear the demise of Shri Bappi Lahiri, one of the Legendary Music Composers of India, had the honor of working with him for 3 super hit movies in which his songs played a crucial role. Had a long association with him. I pray for his family's strength," Mohan Babu recalled his association with Bappi Lahiri.
Here is the compilation of top Telugu songs of Bappi Lahiri.
1. Simhasanam – Aakasamlo Oka Taara
Superstar Krishna's costliest production 'Simhasanam' was the debut Telugu film for Bappi Lahari. He was riding high on popularity in Bollywood then and made a smashing debut in Telugu as well. It was a musical blockbuster.
'Simhasanam' was the first 70 mm stereophonic sound film in Telugu cinema, and all the songs were crooned by Raj Sitaram, as Krishna and SP Balasubramaniam had some differences. "Akasamlo Oka Tara" and "Vahavaaa Yavvanam" topped the charts for many months.
2. Tene Manasulu – Alare Alare Mukunda Murare
Krishna had worked with Bappi Lahiri back to back, but none had attained the success as 'Simhasanam' did. 'Tene Manasulu' was another film that had some catchy songs. Bappi Lahiri had used one of his Hindi compositions for this number in 'Tene Manasulu'.
3. State Rowdy – Chukkala Pallakilo
'State Rowdy' marked the super hit combination of Megastar Chiranjeevi and Bappi Lahiri. Although the film was not a major hit, the songs turned out to be popular.
4. Gang Leader – Gang Leader Title song
'Gang Leader' was the turning point in Megastar Chiranjeevi's career. With this film, he became the highest-paid actor in India. Bappi Lahiri's all songs in the album were instant hits. Besides the title song, it also had "Vaana Velluvaye", which was recently remixed in 'Racha'.
5. Rowdy Gaari Pellam – Boyavaadi Vetuku
Mohan Babu was at the peak of his career when he teamed up with Bappi Lahiri. 'Rowdy Gaari Pellam' was their first combination, and the film had catchy numbers.
"Boyavaadi Vetuku" and "Yama Ranju Meeda Undi Punju" are the pick.
6. Rowdy Alludu – Bolo Bolo Rani
Another super hit album in the combination of Bappi Lahiri and Chiranjeevi is K Raghavendra Rao directed 'Rowdy Alludu'. The film has five catchy songs.
7. Brahma – Musi Musi Navvulalona
While Bappi Lahiri was known for his disco and dance numbers, he also tuned melodious numbers. "Musi Musi Navvulona", sung by legendary KJ Yesudas, is one such. This Mohan Babu starrer 'Brahma' is remembered for this song only.
8. Rowdy Inspector – Dikki Dikki
Bappi Lahiri composed songs for a couple of Balakrishna's movies but the only film that had a super hit soundtrack is 'Rowdy Inspector'.