Story:
Sekhar (Chiranjeevi), Rajendra Prasad (Hari), Narayana Rao (Vasu), Saichand (Kumar), and Girish (Gandhi) are friends. Gita (Suhasini) enters their life like a breath of fresh air, but their joy is short-lived when they learn about their terminal illness. How her entry makes a difference in their lives?
About the film:
"Manchu Pallaki" is a remake of the Tamil film "Paalaivana Cholai" directed by Robert Rajasekharan. Chandrashekar played the role of Chiranjeevi in Tamil, while Suhasini played the same role in the original. Shankar-Ganesh provided music for the Tamil film.
"Manchu Pallaki" is the debut film for director Vamsy. This film is the 49th in Chiranjeevi's career, and was the 12th film to release in 1982! This film is the first of two combinations that became popular later: Chiranjeevi-Yandamuri, and Chiranjeevi-Suhasini. Suhasini was 19 when she did this film. Chiranjeevi and Suhasini did nine films together: Manchu Pallaki (19.11.'82), Maga Maharaju (15.07.'83), Challenge (09.08.'84), Kirathakudu (10.01.'86), Chantabbai (22.08.'86), Rakshasudu (02.10.'86), Aaraadhana (27.03.'87), Manchi Donga (14.01.'88), and Marana Mrudungam (04.08.'88).
Most of the film was filmed in and around Sanjeeva Reddy Nagar and Journalist Colony ( Happy new year… song) in Hyderabad. The paintings shown as painted by Chiranjeevi in the movie were given by Chandra, who was also the art director. The film was released by Usha Pictures in the Godavari, Lakshmi Films in Andhra, Vijayasuresh in Nizam, and VMC in Ceded. Suhasini's father Charuhasan distributed the film in Nellore through Charuhasan Enterprises. Through the film's titles, the moviemakers offer special thanks to Charuhasan, K.S. Ramarao, Jandhyala, and Kranthi Kumar.
Presenter Vemuri Satyanarayana's version:
While working in Rajahmundry for Bapu's Rajadhiraju as the PRO, M.R. Prasad gaaru came to the shooting spot regularly. When we wrapped theshooting, he approached me and introduced himself as the owner of the finance company Godavari Finance in Rajahmundry. He revealed that he wanted to make a movie and asked him to join him as a producer. When I said I didn't think I was experienced enough, he convinced me saying I was surely more experienced than he was. I agreed finally, and the banner was named Godavari Chitra, based on the name of his finance business.
We initially thought of doing the film under the direction of Bapu gaaru, but it didn't work out. Jandhyala gaaru was our next choice, but that didn't work out either – they were both quite busy at that time! We considered approaching Eranki Sarma (of Chilakamma Cheppindi, Naa Laagaa Endaro) but Kranthi Kumar, who was close to me, cautioned me that the budget might go overboard with Eranki Sarma. That was when I thought of Vamsy! I knew Vamsy for three years, from the time I worked in Jyothi monthly magazine – we even published his novel Bharathi! His frequent visits brought us so close that he was always with me when we were on our hunt for directors. When I asked him to do the film after each one – Bapu gaaru and Jandhyala gaaru – could not be penciled in, he rejected. But, I went to him directly and told him this time – without even approaching Eranki Sarma – that he should do this film for me. He agreed reluctantly upon one condition: He wanted a roll of raw film for a day's shoot with local artists to check whether he'd be comfortable doing a film. I provided him with what he needed, and he returned the next day saying he'd do the film. …Vamsy was paid only Rs.650 per month as his remuneration! The film was completed in three months but I think Vamsy was paid for six months.
Hari Anumolu steps in:
Vamsy and M.V. Raghu were very close friends and Vamsy promised Raghu that his first cameraman would be none other than Raghu, but then Vamsy was in a fix as Hari Anumolu was the person he recommended earlier when we considered Jandhyala gaaru. It was Vamsy who took us to the film Vadagai Veedu for which Hari Anumolu was the cinematographer and recommended him to us. Producer Prasad immediately liked Hari Anumolu's work and gave him an advance at that instant! So, when things turned around and Vamsy became the director, he was in a fix and could not insist on taking M.V. Raghu, thus going along with Hari. Later, Hari too became very close to Vamsy! I recommended him for the Sravanthi banner and he did nearly all the films of Sravanthi – except a couple of films like Nuvvu Naaku Nacchaav! and Ready.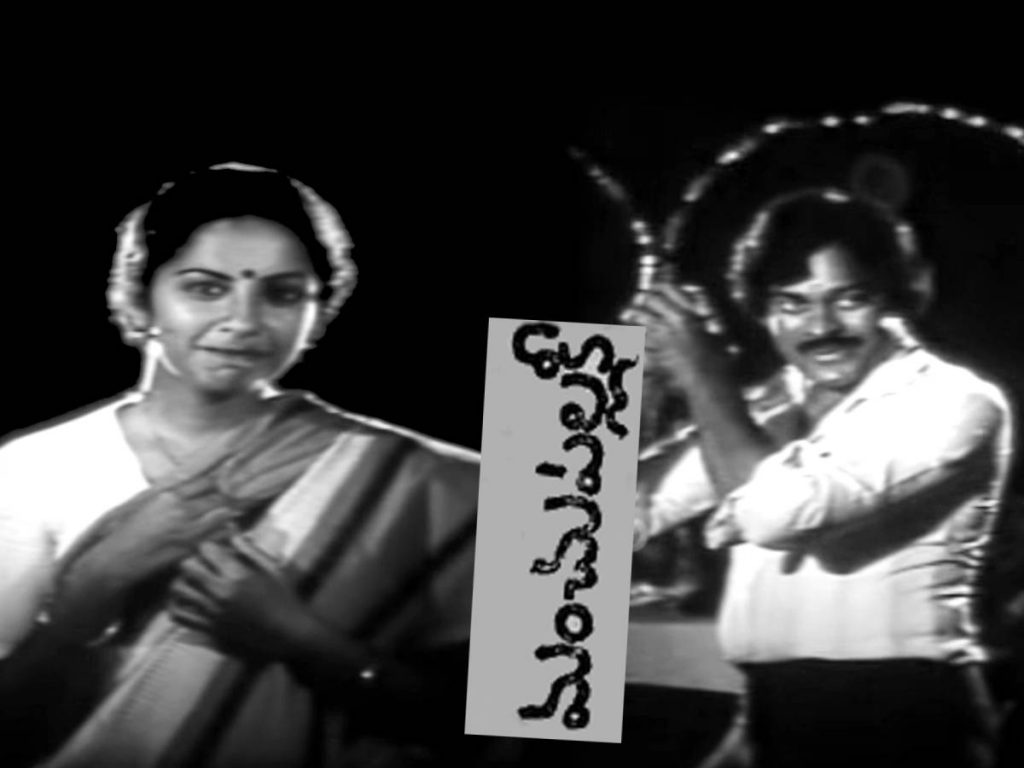 The lead artists:
We knew Edida Nageswara Rao through Vamsy who worked for their Purnodaya Creations banner. Chiranjeevi lived upstairs in Edida Nageswara Rao's house, and that's how we approached Chiranjeevi. However, since Kranthi Kumar introduced Chiranjeevi through Praanam Khareedu, Chiranjeevi always checked with KranthiKumar before signing a film. Thus, my friend Kranthi Kumar was the one who helped us get him as our hero for remuneration of Rs.70,000.
We chose Saichand since he already made a name for himself through his roles in films like Maa Bhoomi; his brother Late Dr. Ramesh Babu was a good friend of mine. Girish made a mark in the film Saptapadi, and thus we chose him too. Suhasini was our choice for the heroine right from the beginning. We approached her dad Charuhasan and requested him. He agreed when he heard that we were remaking a film in which she acted in Tamil already. Suhasini was down to earth and came only with one friend Lakshmi who used to help her with makeup. She also used to assist Hari Anumolu whenever possible, as they were both colleagues when she was working as an assistant of Ashok Kumar. For example, we used to shoot the Happy New Year… song until midnight. Though she was not required to shoot on all days, she used to be around all the time to help Hari Anumolu.
Finalising the music directors:
I liked the work by music director duo Rajan-Nagendra in Navata movies, and we chose them for our film. They were not at all happy with the song "mEghamaa, dEhamaa!…" since that'd be a copy of the original tune from Tamil. They wanted to do a different composition, but we felt it would be okay to reuse the same tune again – the song was lifted from a Jagjit and Chitra Singh's ghazal! The song became a huge hit in Tamil as well as Telugu. We however chose Janaki gaaru instead of Vani Jayaram who sang the Tamil original version.
Yandamuri Veerendranath for the dialogues…
Since Jandhyala gaaru was our choice for our director at one time, we didn't think of taking anyone for dialogue-writing. After Vamsy was finally chosen, we thought of approaching Yandamuri Veerendranath, whom also I knew from the days of my employment with Jyothi monthly. He was about to leave for the Calcutta Film Festival for the screening of Mrunal Sen's film Oka Oori Katha, a film that he worked for. Upon hearing from us, he came to Madras first. We had the script translated into Telugu by Vamsy already, based on which he completed his work in merely two days and left for Calcutta from Madras directly! …Jandhyala gaaru was kind enough to give a voice-over for the character introduction in the film's beginning.
Director Vamsy about the film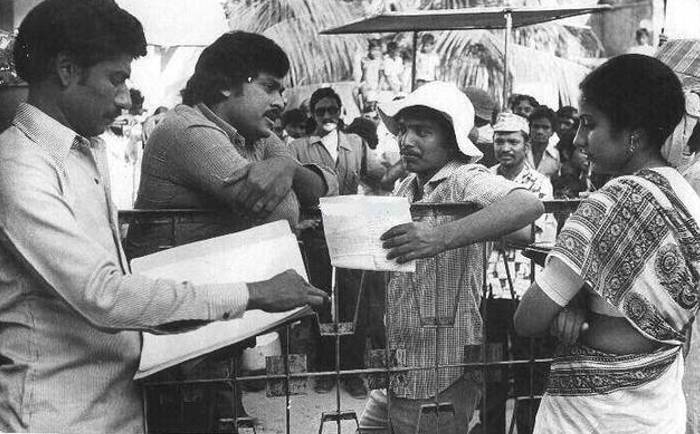 I met Vemuri Satyanarayana when I went to the Jyothi Monthly office. As I already sent a novel to them, he thought I came all over from Andhra Pradesh to Madras to see if it'd be published! I clarified that I was working as an assistant director with Madhusudana Rao gaaru, and he felt happy. When Prasad Rao gaaru and Vemuri gaaru planned to produce a movie, I showed a place for their office near my house; it was previously the office for Sankarabharanam film. As it was near my house, I used to visit the office very often and used to participate in the discussions. For the director, several names came up: Bapu gaaru, Jandhyala gaaru, Vejella Satyanarayana, Relangi Narasimha Rao, Eranki Sarma, etc. were considered. For some reason or the other, none of them worked out!
One early morning, Vemuri Satyanarayana gaaru came to my house and took me by utter surprise saying that he wanted me to be the director of the film! I was not at all ready to do it at that time, and I was not at all happy with his decision because I never thought of directing a film before I turned 30. Also, I never wanted to do a remake! I tried to tell him the same but he didn't listen to me and insisted that I should be the director or the movie will never be done! Seeing his confidence in me, I asked him to give me 1000 feet film roll and a day to shoot to ensure my confidence levels, and he agreed. I exposed only 400 feet of film and shot a mock film with Indian Oil Murthy gaaru and others. I got it developed in Prasad Labs, saw the rush in Apsara Preview Theatre near Kodambakam bridge down …and well, I was confident enough! I agreed to do the film with one condition that the senior associate director had to be replaced, and they agreed to that too.
…It was Yandamuri who suggested the title Manchu Pallaki, also the name of my first novel, which was published in Andhra Jyothi weekly. Rajan-Nagendra and I didn't get along well as they felt I was too young and did not have much domain knowledge. This hurt me and I vouched to never work with them again. …Chiranjeevi was very busy at that time and gave 16 days on the whole during two months, and thus we completed his shoot in that 16 days in Hyderabad. We thought of doing the film in and around Nallakunta actually, near Shankar Mutt since the locality has a residential colony and a local railway station nearby. But, we thought Nallakunta could be more crowded since it's near Osmania University. Sanjeeva Reddy Nagar, on the other hand, was considered city outskirts back then and it wasn't at all crowded like today, and thus we chose the S.R. Nagar area for the shoot.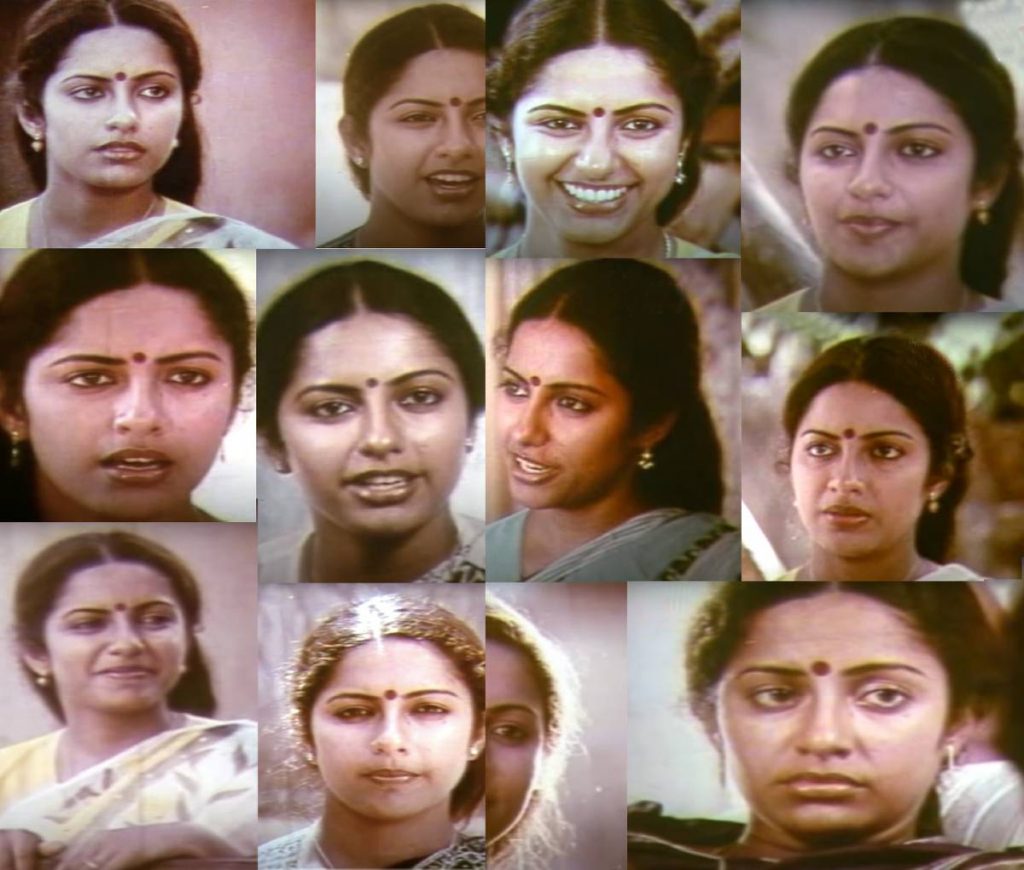 In Suhasini's words…
"The film is about a platonic friendship between five guys and a very special but simple girl! I played the role of the girl, and I die at the end. I was still at film school when I acted in the Tamil version of the film! Rajeshekaran sir was my lecturer at the film institute and his brother Jayachandran was my classmate. When they were working on the script, it was Jayachandran who suggested my name for the movie. The film was produced by Vadivelu, the fitness master for my uncle Kamalhasan. I agreed to do the film on one condition: that I would still attend school too. To accommodate that condition, they shot from 6 a.m. to 10:30 a.m. and 6 p.m. to 10 p.m. I used to start at 5:30 a.m. at my home to attend the shooting with makeup, albeit minimal. At 10 a.m. again, I used to clean the makeup in the car on the way to school and attended school at least after the first period. That's why one can observe most scenes either in morning or evening backdrop. I didn't take any remuneration for the film. All lead artists in the Tamil version were newcomers, yet the film is a big hit. I did Robert sir's second film also, which was an experimental film too".
…In Telugu, this was my second film after Bharathiraja's Kottha Jeevithalu. Until my exams were completed in August '81, I was not concentrating on my acting career seriously. When Manchu Pallaki was offered, I was done with my studies. Thus, I started taking my career more seriously with this film. Honestly speaking, I think that the Telugu version was much better than the Tamil version! Even, I think I look better in Telugu than in Tamil. I was paid almost equal – probably ten to fifteen thousand rupees less – compared to the hero's remuneration in Telugu! I still remember Chiranjeevi gaaru grumbling about it… "How come a new heroine gets as much amount as an already established hero?" – This was his point, and it was genuine too, of course! …If I should believe what I heard, his exact question was to know if I was receiving high remuneration because I wasKamal Hasan's brother's daughter. …It was nice of him to do the role still, where he was one of the five male leads and the film revolves around the female lead!
I met Chiranjeevi gaaru on the flight. He was sitting next to me on the flight and said "If you have any problems with food or accommodation, please let me know since you're a newcomer in Telugu.", and after a pause, he added "I can only listen to your problems but cannot help in any way."(" meeku Emannaa samasyalu vastE cheppanDi… vinipeDataa kaanii Em cheyyalEnu!") (laughs). On the sets, he used to tease me in Tamil, singing a song, along with the other four male leads (Rajendra Prasad, Saichand, Narayana Rao, and Girish), which irritated me and I told them the same. Then, to tease me in another way still, he asked the other four to not talk to me so that I'll be annoyed and will say sorry (" aa ammaayiki chaalaa pogaru. manam maaTlaaDakunDaa unTE appuDu tagguntundi."). But the other four used to come to me when he was not there and used to give me Tamil magazines, offer a masala dosa, or interact in some other way. After four days, I revealed to Chiranjeevi that he was the only one who was not talking to me but the rest of them became good friends. He was surprised at first, but soon he became a good friend. …My father liked the subject so much that he took distribution rights in Nellore along with a friend. This was not as a part of my remuneration, though.
Chiranjeevi about Vamsy and Manchu Pallaki:
"In [ Manchu Pallaki], [Vamsy] thought that I should play the main character who falls in love with Suhasini. Vamsy approached me through producer Edida Nageshwara Rao gaaru while I was working for his Subhalekha. I was also doing Intlo Ramayya-Veedhilo Krishnayya then. I agreed to do the role. …Vamsy is a different kind of director altogether. He never used to go the conventional way. I was like, "Who's this guy? He's doing a good job!" His thoughts were novel, his approach was unique, his taking shot division, and shot cutting was different, and his narration was too good. Also, he has a great sense of music. Songs in Vamsy's movies are all wonderful! I particularly like the song mEghamaa, dEhamaa!… sung by Janaki gaaru – it's one of my favorites! Not only this one film, but he also did so many other musicals with Ilayaraja. His editing sense is exceptional too! …He's someone who goes for innovation anytime!"
Written by Sri Atluri
(NOTE: The article was first published on Sep 10, 2008. Reproduced from the archives.)