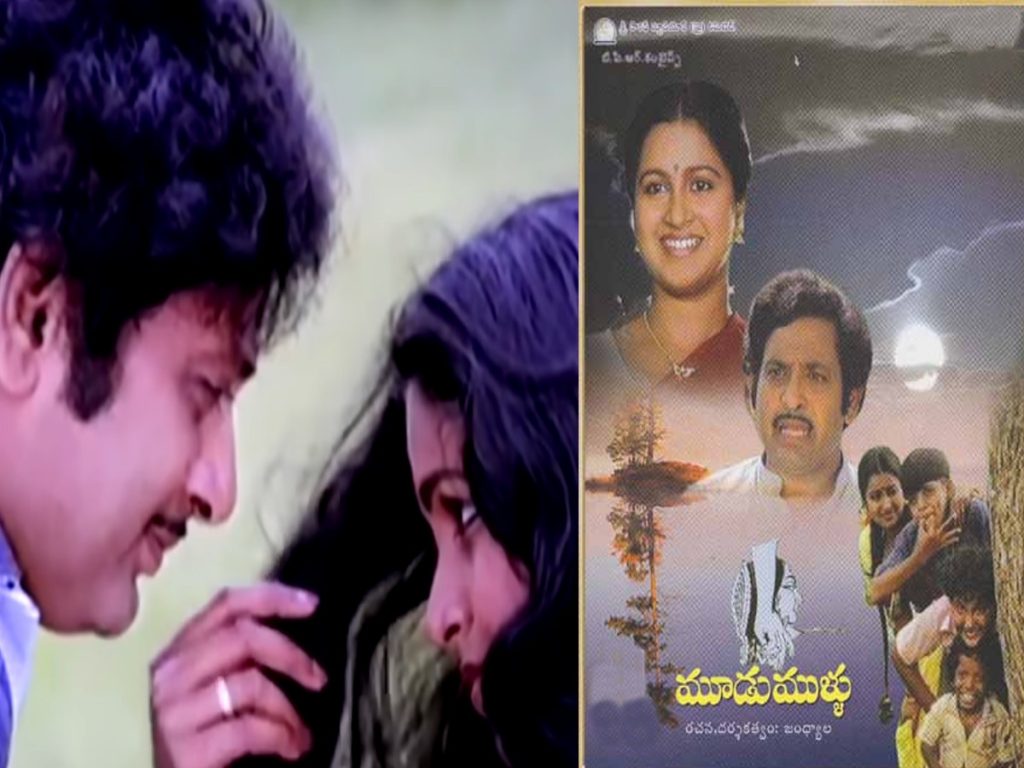 Story:
Gowri (Radhika) a village President's (Kanta Rao) daughter is a naughty girl in the village. A widowed school teacher (Chandramohan) lands in that village along with his son. Initially, she tries to trouble him, but after seeing his simplicity, good nature, and love towards his ex-wife (Rajyalakshmi), she falls in love with him. She tries in vain to marry him by all means. Finally, she traps him to get married to her, but that brings distance between them, and he keeps away from her. How she wins his heart is the rest of the heart-touching story.
Geeta plays another important role as Chandramohan's colleague in the school, adding glamour to the film.
About the film:

The film is a remake of a Tamil film titled Mundanai Mudicchi. Bhagyaraja, who provided the story too, played the lead role in the Tamil version. Urvasi debuted with this Tamil movie, in Radhika's role, while Deepa played the role of Geeta in the original. The film was a big hit in Tamil, and thus the producers remade it in Telugu too.
Chandramohan's role does not have any name in the film; he's just called Master-u by everyone! Ali as a child artiste is a treat to watch. Kakinada Gangaratnam is seen on the screen after a long time in this film. Master Chakravarthy (son of Late Dr. Tambu), who also played the studio boy in Saagara Sangamam, is now a special effects whiz in the USA who also worked for the film Sree Aanjaneyam recently. Vinnakota Kiran, who played a lead role in Hai Hai Nayaka!, did a small role in this film; he recently passed away a few years back with jaundice.

The film was shot in and around Amalapuram and West Godavari district, in a single schedule of 30-40 days. Jandhyala's dialogues are good, as always. The film has satires on mid-day meals served in schools at that time, and on education to adults in villages. It also deals with the mentality of men towards women. A lot of dialogues with double meanings in Tamil original were dropped in Telugu, thanks to Jandhyala's clean taking.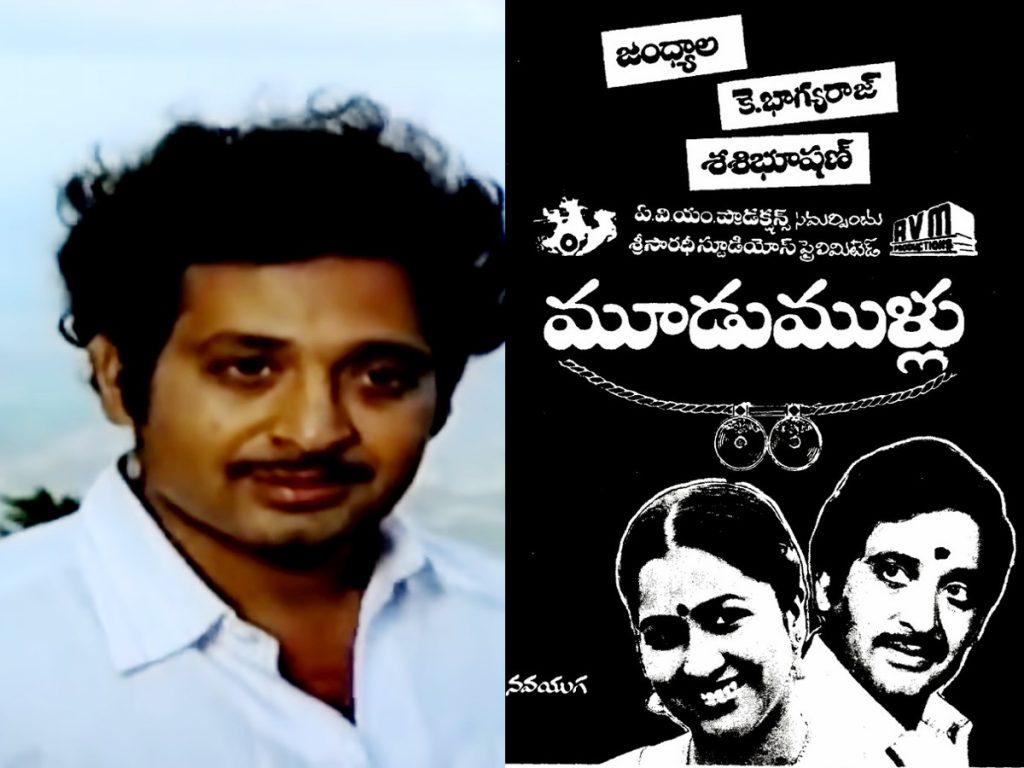 E.V.V. Satyanarayana was assistant director for the film, and was credited as Edara Satyanarayana. J. Pullarao, who later produced and directed a couple of films, is also an assistant director for this film. Cameramen Srinivasa Reddy and Diwakar worked as assistants to S. Gopal Reddy in this film. The camera work is very good, especially in the songs nee kOsam yavvanamantaa… and lEta chaligaalilO…, which are also the best ones in the film, thanks to the fantastic music by Rajan-Nagendra. These were originally hit in Kannada, and the same tunes were reused for this film by the duo that created the originals.
While Moodu Mullu was still in the theaters with a successful run, another producer dubbed the original into Telugu as Vaddante Pelli. That fared averagely at the box office. The film was later remade in Hindi by R.C. Prakash of Sivashakti banner, with Rajesh Khanna and Sridevi as Master-ji, with K. Raghavendra Rao wielding the megaphone. The Hindi version was released on Aug. 22, 1989.
By Sri Atluri
Compiled and edited by Nachaki
(The story was originally published on Jan 13, 2007.)
CAST AND CREW CREDITS of Moodu Mullu (1983)
Film: Moodu Mullu (1983)
Duration: 2 hours 25 minutes
Cast: Chandramohan, Radhika (Gowri), Geeta, Rajyalakshmi (guest), Sutti Velu, Sutti Veerabhadra Rao, Nalinikanth (Ratnam), Kanta Rao (President Dharmayya), Janaki, Maddali Susheela, Gangaratnam, Lakshmi, Sakuntala, Thatipaka Papa, Master Ali, Master Chakravarthy, Vichitra Kumar, Yoganand (Baby), Kota Sreenivasa Rao (Poojari), Seshagiri Rao, Tilak, Ninar, Pantam Venu, Sreepada Hanumantha Rao, Vangala Sriramamurthy, Kumar, Adinarayana, Subrahmanya Raju, Vijayalakshmi
Lyrics: Veturi Sundararamamurthy, Jyothirmayi
Music: Rajan-Nagendra
Playback: S.P. Balasubrahmanyam, P. Susheela, P. Kausalya
Asst. Directors: E.V.V. Satyanarayana, J. Pullarao
Operative Cameraman: Diwakar, Srinivasa Reddy
Camera: S. Gopal Reddy
Dance: Siva Subrahmanyam
Editing: Gautham Raju
Story: K. Bhagyaraj
Producer: P. Shasibhushan
Banner: Sree Sarathy Studios
Screenplay, Dialogues, Direction: Jandhyala
SONGS

swaagatam suswaagatam! chaavu debba swaagatam, tOlu valichi tOraNam
Playback: P. Susheela Cast: Radhika
bajjOraa, naa kannaa, laali jO! evarayyaa neekamma, laali jO!
Playback: S.P. Balasubrahmanyam, P. Susheela Cast: Chandramohan, Radhika
nee kOsam yavvanamantaa daachaanu mallelalO
Playback: S.P. Balasubrahmanyam, P. Susheela Cast: Chandramohan, Radhika, Geeta
chaalimchu uttuti Onamaalu, nErpinchu premanna aksharaalu
Playback: S.P. Balasubrahmanyam, Kausalya Cast: Geeta, Sutti Velu, Sutti Veerabhadra Rao
lEta chaligaalilO, hOy, dOchukOraduraa
Playback: S.P. Balasubrahmanyam, P. Susheela Cast: Chandramohan, Radhika
bajjOraa naa kannaa, laali jO! evarayyaa neekamma, laali jO (pathos)
Playback: S.P. Balasubrahmanyam, P. Susheela Cast: Chandramohan, Radhika