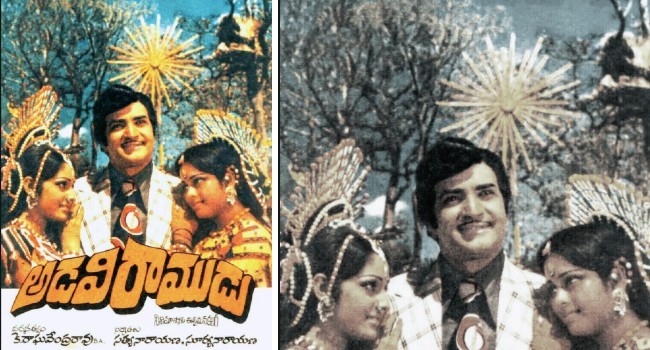 Adavi Ramudu(1977)
Technical: Cinemascope, Eastman Color
Reels: 18
Release Date: April 28, 1977
Cast:
N.T. Ramarao … Ramu a.k.a Rammohana Rao
Jayaprada … Padma
Jayasudha … Chilakamma
Sridhar … Jagga
Nagabhushanam … Dharmaraju
Jaggayya … Forest Officer Rangarao
Gummadi Venkateswara Rao … Rajashekaram
Rajababu … Pakala Bheemanna
Pandari Bai … Rajyalakshmi
Satyanarayana … Nagaraju
Other Cast: Mada Venkateswara Rao, Arja Janardhana Rao, Kavitha, Chalapathi Rao, Ramaprabha, Baby Rohini
Elephants: Devaki, Sujji, Vijji
Story: Satya Chitra
Dialogues: Jandhyala
Lyrics: Veturi Sundararamamurthy
Playback: P. Susheela, S.P. Balasubrahmanyam, S. Janaki
Music: K.V. Mahadevan
Assistant Directors: N.B. Chakravarthy, B. Gopal
Art: Thota
Publicity: Eshwar
Editing: Kotagiri Venkateswara Rao, Kotagiri Gopal Rao
Dances: Saleem
Operative Cameraman: K.S. Prakash
Assistant Cameramen: Navkanth, Vincent Jayanan
Camera: A. Vincent
Producers: Satyanarayana, Suryanarayana
Banner: Satya Charita
Screenplay, Direction: K. Raghavendra Rao
Songs:
kRshi unTE manushulu Rshulavutaaru
Playback: S.P. Balasubrahmanyam
Cast: N.T. Ramarao, Pandari Bai, and others
amma tODu, abba tODu, nee tODu, naa tODu
Playback: P. Susheela, S.P. Balasubrahmanyam, S. Janaki
Cast: N.T. Ramarao, Jayasudha, Jayaprada
aarEsukObOyi paarEsukunnaanu harii, harii!
Playback: S.P. Balasubrahmanyam, P. Susheela
Cast: N.T. Ramarao, Jayaprada
ennaLLak(u)ennaaLLak(u)ennaaLLaku, ennellu tirigochche maa kaLLaku!
Playback: P. Susheela, S.P. Balasubrahmanyam, S. Janaki
Cast: N.T. Ramarao, Jayasudha, Jayaprada (and co)
kuhoo kuhoo… kOkilamma peLLiki kOnantaa pandiri
Playback: S.P. Balasubrahmanyam. P. Susheela
Cast: N.T. Ramarao, Jayaprada
chooDaraa chooDaraa oka choopu O Suleman miyya
Playback: S.P. Balasubrahmanyam, P. Susheela, S. Janaki
Cast: N.T. Ramarao, Jayasudha, Jayaprada, and others
Story:
The film has a simple storyline. A forest officer (NTR) goes undercover to nab the smugglers and also take revenge on the villains who killed his father.
Trivia:
This film marks the first combination of NTR, K. Raghavendra Rao, and Veturi Sundararamamurthy. Songs played a major role in the hit run of the film. kRshi unTE…, ennaaLLakennaaLLakennaaLLaku…, and the unforgettable aarEsukObOyi paarEsukunnanu… went crazy with masses among the audiences. All the songs were super hits, thereby bringing a craze to Raghavendra Rao and his team.
NTR became the darling for mass appeal and that became a major plus point. His comedy act as Suleman miya was received well too.
N.B. Chakravarthy and B. Gopal were assistant directors for the film. They both did movies with Balakrishna later.
Navkanth and Vincent Jayanan, the assistant cameramen for the movie, later did many blockbuster movies as cameramen. Navkanth is the son of Art director Krishna Rao, who is the brother of producer-cameraman S. Venkataratnam of Yamagola. Jayanan Vincent is son of cameraman Vincent, who is settled in Canada now.
Comedy dialogues by Jandhyala like charitraDakku… cheppindi vinu!, "raamaa!" anTE bootugaa vinapaDutundi were quite popular at that time.
Kids liked the episodes of elephants performing pooja and hero taking bath with the help of elephants. Even NTR's fight with the lion was entertaining to children.
The film set the trend to shoot the climax in a large scale! Earlier, climax was generally shot in villain dens but not in such a huge set or with so many people in the scene!
The trend set by Raghavendra Rao with this film is followed even now. Directors like Kondadarami Reddy and B. Gopal, to Puri Jagannath followed similar story lines to create wonders.
Producer Suryanarayana speaks…
After a disastrous Prema Bandham, we planned Adavi Ramudu with Ramarao gaaru, and a two-films old Raghavendra Rao. His much-celebrated Jyothi didn't start by that time. But Ramarao gaaru knew KRR well enough since the time Raghavendra Rao assisted ' pouraaNika brahma' Kamalakara Kameswara Rao in Pandava Vanavasamu and agreed readily to do the film. After completing the shooting, he just complemented us saying that shooting of this film shall remain as one of the best memories in his life. The film is such a big success that people of that generation speak volumes of it and feel nostalgic even today, wherever I go. I am really happy that I made such a film with my cousin Satyanarayana.
About the film:
Conception and Casting:
Sridhar, Jayasudha, N.T.Rama Rao, Jayaprada, K.V.Chalam with Sujji, Vijji and Bujji (elephants)
Satya Chitra banner (of producers Nekkanti Veera Venkata Satyanarayana and Arumilli Suryanarayana) started their first film with Sobhan Babu's Tahsildar Gaari Ammaayi (November 12, 1971), which was based on a serial by Kavilipati Vijayalakshmi in Andhra Prabha titled Vidhi Vinyaasaalu. The film was directed by K.S. Prakasha Rao, father of K. Raghavendra Rao; Raghavendra Rao was an assistant director for that film. The film was one of the big hits for Sobhan Babu who played dual role in the film. After that film, they made Prema Bandham (March, 12 1976 – the same day as NTR's Aaradhana) with Sobhan Babu and Vanisree under the direction of K. Viswanath. It garnered good openings, thanks to Sobhan-Vanisree-Viswanath combo movies ( Chelleli Kaapuram, Chinnanaati Snehitulu, etc.), but it was soon declared a flop as it could not sustain the craze. (The film was released on the same day or NTR's Aaradhana.)
When they were planning their next film, they approached Raghavendra Rao to work for them, whom they already knew as an assistant director as he just started taking up direction independently. NTR had already given them dates in September 1976. At that time, Kannada Rajkumar's movie Gandada Gudi, made with a forest backdrop, went on to be a super hit in Kannada. This prompted the team to suggest that Jandhyala should work on the script and dialogues based on a forest backdrop.
Jayasudha, who already worked with K. Raghavendra Rao for his film Raja, was chosen for an important role. Jayaprada was just a budding artist at that time with her Sirisirimuvva being a super hit. Thus, she was taken for the heroine role. Sridhar was approached to do an important role opposite to Jayasudha. Jayasudha was not aware that she was doing the second role until the last minute, but since she already agreed to do the film, she just went ahead keeping faith on Raghavendra Rao. She got a lot of letters after the film was released to not do second lead role again, though she had a good role in the movie. (People were not aware that she signed this film before she did Jyothi, as Jyothi hit the screens earlier than Adavi Ramudu and brought Jayasudha a good name.)
Though he had given the dates for Adavi Ramudu, NTR was doing Daana Veera Soora Karna at the same time, which he planned to complete before January in order to ready it for Sankranthi. So, he called the producers Satyanarayana and Suryanarayana and requested them to and inform that he'd give bulk dates once he completed the shooting for Daana Veera Soora Karna.
Making of the film:
Except the opening shot, all the of the movie shooting was done in Madumalai forest. The opening shot was done in Madras in a Studio on January 9, 1977. Adavi Ramudu was the first film for which NTR had given dates for more than a month (35 days) out of Madras! Adavi Ramudu is NTR's first color film shot in Cinemascope. This was also the first film that used a Cinemascope lens imported from Japan by Prasad Labs (Madras). Earlier Cinemascope films Alluri Seetharamaraju and Kurukshetram were done with a lens brought from Mumbai. Cameraman Vincent first worked with NTR much earlier, for the film Sontha Ooru produced by Sree Ghantasala, and this is the second film for him with NTR after a long time.
There were only three Government Guesthouses in Madumalai forest, and they could not accommodate the 300 plus cast and crew in that dense forest. Thus, the producers took carpenters, molders, painters, etc. to the forest, worked for fifty days to build new guesthouses and took special permission for electricity in the middle of the forest. The nearest town/ airport was 250 km away from the forest, and for every small thing, they needed to go all the way to Mysore. Thus, they used to get all of a day's needs each morning from Mysore.
Jayasudha recollects two accidents on this shooting: one was while doing a scene where she and Jayaprada were sitting on elephants. Junior artistes were practicing a Dappu scene right then, and the elephants got panicked by the noise and threw down both the lead ladies with their trunks! Luckily, they escaped the major injuries. Another one was a chase scene where she and Jayaprada were chased by villains while they were trying to escape on a horse cart. The cart's axle was broken and both of them were injured and were forced to rest for a couple of days!
Accolades
The 100 days celebration for Adavi Ramudu was held in Apsara theatre, Vijayawada. Akkineni Nageswara Rao and Dilip Kumar were chief guests for the function. 200 days celebration was held on November 13, 1977 in Taj Coromandel in Madras with showman Raj Kapoor as the chief guest for the function. The film won the Filmfare award for the Best Film for the year 1977.
Records and Collections by Vijaybhaskar
Some of the collection-based/run-based records of the film Adavi Ramudu :
First film to run for one whole year in 4 centers in one state in India. (Hyderabad, Vizag, Tirupathi, and Vijayawada). Sholay had a previous record of 3 centers in Maharashtra (Mumbai, Nasik, and Pune).
100-day run in more than 35 direct centers. First movie to complete its direct 100-day run in 6 centers in Nizam and 5 centers in West Godavari territory. First film to run for 175 days in 16 centers (direct and shifts).
First film to collect more than 80 lakh (83 lakhs) rupees within its 50-day run. It is also the first film to touch the one crore collection mark within first 10 weeks' run (67 days).
Sensational record at Kanaka Mahal, Nellore. At times when it was very difficult for movies to get 4 screenings a day from their second or third week's run, Adavi Ramudu got 5 screenings every day till its 102 days, a record that existed till Balakrishna's Seetharama Kalyanam (1986) surpassed it in two centers, Tirupathi and Anantapur. More importantly, all 5 shows were house-full there for the first 35 days and from its 35th day to its 50th day, 4 shows were house-full with D.C.R. Between its 50th day and its 85th day, the matinee, first show, and second shows were house-full. Thus, out of the 253 shows screened till its 85th day, 232 shows were full.
Adavi Ramudu ran for 100 days in Kurnool at its main theater Anand. Never before and never after this movie has a film got an additional 105 days run in its first shift theater (Variety), which is very proximal to the main theater. (The distance between Anand and Variety is barely 200 feet.) Even after this, the craze for this movie did not subside and it ran for another 161 days in its second shift theater (Radhakrishna) and completed its 365 run in the town.
In Visakhapatnam, the film's run was: Alankar (302 days) + Lakshmi (6 days) + Mahalakshmi (28 days) + SVLN Talkies (25 days) + Sri Rama Picture Palace (8 days) = 369 days.
In Vijayawada: Apsara A/C (176 days) + Rajakumari (up to 250 days) + Other shift theaters = 365 days.
In Hyderabad: Venkatesa 70 mm (176 days) + Noble (33) + [2 days gap (210th and 211th day)] + Apsara (21 days) + Amar (12 days) + Jagath (26 days) + Vijayalakshmi (29 days) + Noormahal (10 days) + Swamy (12 days +) + Sagar (up to 365 days).
In Kakinada, Devi 70mm A/C (134 days) + Lakshmi (120 days) = 254 days.
House-full for 47 days at Venkatesa 70mm, the then biggest theater in A.P. Its gross collection of Rs. 13,56,000 was twice the amount of the previous single theater record collection.
200 days run in 3 more centers: Rajahmundry – Kumari (218 days), Anantapur – Shanti (107 days) + Venkateswara (103 days), and Secunderabad – Sangeeth (15 days) + Ajantha (161 days) + Other shift theatres (28 days).
Adavi Ramudu still holds the record for maximum days' run with regular shows in Secundrabad – 161 days at Ajantha.
All run records over Andhra Pradesh
Hyderabad – Venkatesa 70mm 176 days, Kamal, Meera, and Shobhana
Secundrabad – Sangeeth A/C 15 days, Ajantha 161 days
Warangal – Naveen 107 days
Khammam – Raghavamahal 107 days
Nizamabad – Vijaya 107 days
Karimnagar – Venkateswara 100 days
Tirupathi – Jyothi 176 days
Chittoor – Srinivasa 100 days*
Madanapalli – Jyothi 175 days, Pancharathna
Kurnool – Anand A/C 100 days
Nandyala – Raj 100 days*
Kadapa – Saibaba 100 days*
Anantapur – Shanti 107 days, Gouri, Venkateswara 103 days
Bellary – Radhika A/C 53 days* Mubarak 57 days
Nellore – Kanaka Mahal 176 days, Anitha
Guntur – Krishna Mahal 176 days, Alankar
Ongole – Srinivasa 100 days* Sridevi
Narsaraopeta – Venkateswara 100 days*
Chirala – Prasad 100 days*
Repalle – Lakshmi 100 days*
Vijayawada – Apsara A/C 176 days, Venkateswara, Rajakumari up to 250 days
Machilipatnam – Ramakrishna 176 days, VH Lakshmi
Gudivada – Balaji 107 days
Eluru – Rama Mahal 115 days, Venkateswara
Bhimavaram – Nataraj 100 days*, Srinivasa
Tanuku – Narendra Chitra Mandir 100 days*, Royal
Tadepalligudem – Venkatrama 100 days*
Paalakollu – Annapurna 100 days*
Rajahmundry – Kumar 218 days, Urvasi
Kakinada – Devi 70 mm A/C 134 days* Lakshmi 120 days
Amalapuram – Rama Deluxe 100 days* Sri Ram
Vishakhapatnam – Alankar 302 days, Sri Rama Picture Palace (first movie)
Vizianagaram – Minerva 100 days*
Srikakulam – Suryamahal 100 days*
Proddutur (Late) – Venkateswara 100 days*
Guntakal (Late) – Regal 100 days
* indicates that the movie ran for more than 100 days
Adavi Ramudu 50 days collections (in rupees):
Hyderabad – Venkatesa 70mm A/C – 5,41,904
Vijayawada – Apsara A/C – 4,28,683
Kakinada – Devi 70mm A/C – 2,94,855
Guntur – Krishna Mahal – 2,64,599
Nellore – Kanaka Mahal – 2,62,870
Vishakhapatnam – Alankar – 2,55,238
Tirupathi – V.V. Mahal – 2,33,331
Warangal – Navin – 2,32,064
Anantapur – Shanthi – 2,14,161
Kurnool – Anand – 2,06,722
Tenali – 1,96,110
Rajahmundry – Kumari – 1,87,149
Kadapa – 1,82,537
Khammam – Raghava Mahal – 1,74,431
Bellary – Radhika – 1,69,290
Machilipatnam – Ramakrishna – 1,64,473
Gudivada – 1,62,003
Srikakulam – Surya Mahal – 1,60,438
Vizianagaram – 1,55,241
Chittoor – Srinivasa – 1,52,905
Eluru – Ramaa Mahal – 1,51,761
Secunderabad – 1,50,227
Nizamabad – Vijaya – 1,49,258
Bhimavaram – Nataraj – 1,36,667
Tadepalligudem – 1,18,456
Madanapalli – 1,14,015
Tanuku – 1,12,757
Amalapuram – 1,01,673
Nandyala – Raj – 96,157
Anakapalli – Sri Sathya – 79,627
Proddutur – Venkateshwara – 78,309
Miryalaguda – 76,336
Total (Andhra Pradesh) – 81,41,009
Gross collections (in rupees) in some prominent centers:
Visakhapatnam – 13,94,429.5 (366 days)
Eluru – 2,74,000 (115 days)
Kakinada – 7,00,000 (total run)
Rajamundry – 6,84,663
Tirupathi – 3,35,513.10 (100 days)
Kurnool – 3,02,058.10 (Anand only)
Srikakulam – 2,00,000
Hyderabad – 13,56,000 (Venkatesa 70mm)
Article by: Sri Atluri
Edited by: NaChaKi
Acknowledgements : Sri Pulagam Chinnarayana, Sri Suryanarayana Raju
Theatres Info, Records: Sri Vijaybhaskar