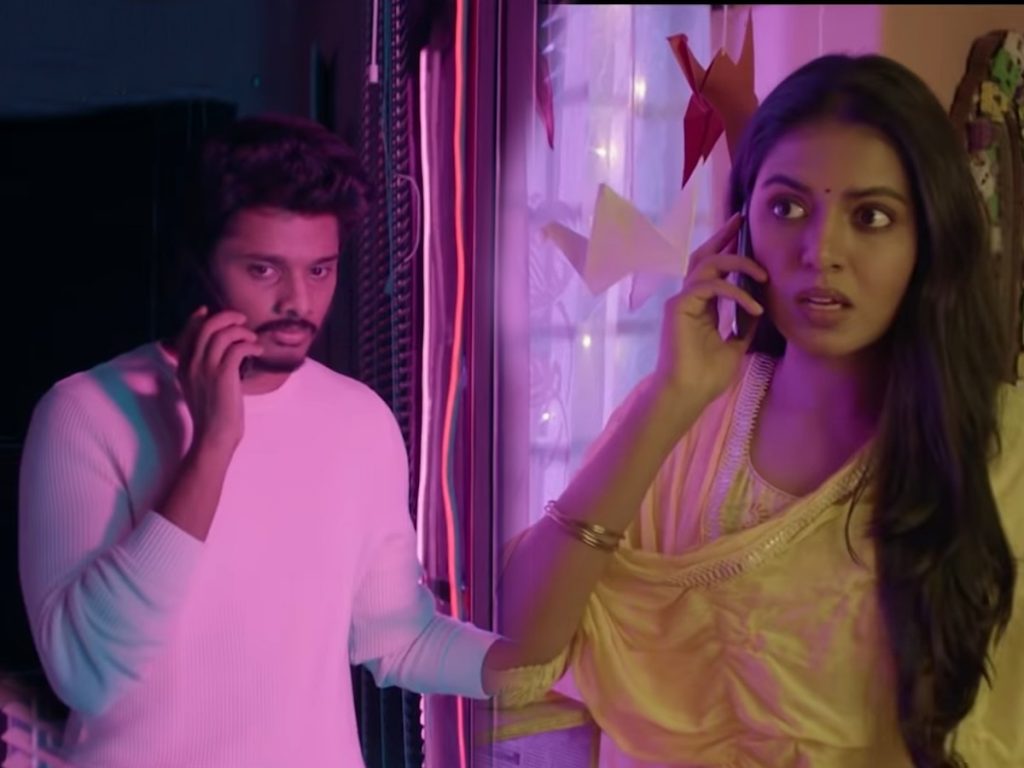 A new Telugu film titled 'Adbhutham' starring Teja Sajja and Shivani Rajashekar is streaming now on Disney+Hotstar. The film is a direct-OTT release. Teja Sajja recently acted in 'Oh Baby' and 'Zombie Reddy' and Shivani is the elder daughter of hero Rajasekhar. Let's analyze.
Suriya(Teja Sajja) is upset with his life and decides to end it. On the other hand, Vennela(Shivani Rajasekhar) is also ready to end her life as her dream of going to Germany is spoilt. Suriya makes sure that no one gets into trouble because of his suicide plans. He messages the same to his number. But in a turnaround of events, the message goes to Vennela. Both cancel their suicide plans start talking to each other only to find out they belong to different timelines. They are also connected in life. What is this time zone concept? How they are connected is the suspense of the film.
The moment you start understanding the whole phone conversation from past to future, the first thing that strikes you is the recent Telugu film 'Playback', which has the same concept. This film is more or less a different version of that film. Both stories are inspired by Korean movies. The film's past is shown as 2016 and the future is shown as 2019.
Director Malik Ram brings conflict points nicely. The first half is filled with neat moments, and the curiosity factor is intact. The director should have stuck to the suspense part and focused on making the couple meet in today's time. But post the interval, it becomes dull. When another angle of the love story between the lead pair appears, it becomes routine. The novelty factor goes missing. And the dragged narration lessens the impact.
The camera work is appreciable. Dialogues by Lakshmi Bhupala stand out. After 'Oh Baby', he leaves his mark again. The music is the weakest aspect.
'Adhbhutam' is Teja Sajja's debut film which got delayed. For a first-timer, he has done well in his role. Shivani Rajaskehar makes a decent debut. Tulasi and comedian Satya do their supporting roles perfectly.
Bottom-line: 'Adbhutham' has an interesting premise. However, if the film would have been under two hours, things would have been better but that is not the case as 'Adbhutham' loses track after a point. 
Film: Adbhutham
Cast: Teja Sajja, Shivani Rajashekar and others
Dialogue: Lakshmi Bhupala
Music: Radhan
Editor: Garry BH 
Producer: Mogulla Chandrashekhar Reddy
Director: Mallik Ram 
Release Date: Nov 19, 2021
Streaming on: Disney+Hotstar