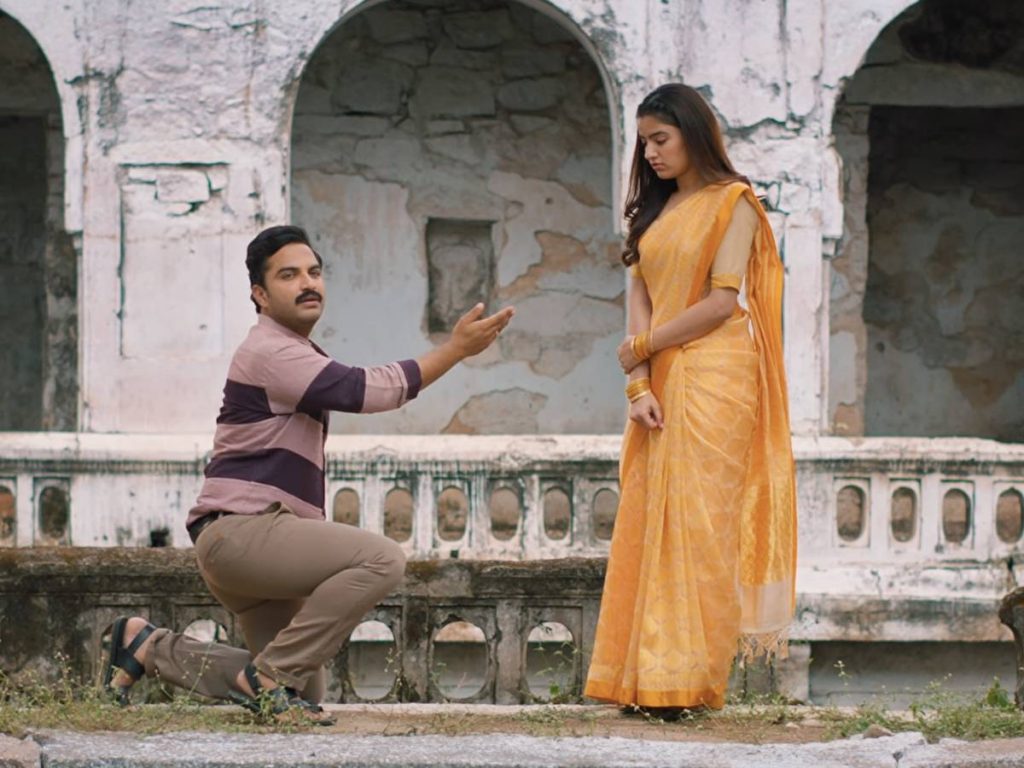 What's it about?
Ashok (Vishwak Sen) is 33 and runs a finance company in Suryapet. His parents and his town folks keep asking him to get married before alliances stop coming. Since not many 'brides' are available in their caste/community, his family agrees to an alliance outside of their community from East Godavari. They all head to Madhavi's (Rukshar Dhillon) home for the engagement ceremony.
On the same day, the first lockdown due to the corona pandemic was announced. They have no option but to stay in Madhavi's home. Ashok tries to get close to Madhavi during this period, but she is in love with another guy. One day, she runs away, leaving Ashok and their families are embarrassed. Getting humiliated is one thing; the other shame is that Ashok has to stay in Madhavi's home until the lockdown gets lifted even after she has eloped with her boyfriend.
Furthermore, another twist is in the store involving Madhavi's sister Vasudha.

Analysis
'Ashoka Vanamlo Arjuna Kalyanam' is a simple tale of a young guy finding a girl who is the one for him.
As Ashok lives in a small town, he faces pressure from the family and society about marriage. Added to his trouble, a girl he loved got married to another guy. She is still in touch with him and encourages him to get married. So, all he wants is to get married quickly. But again, the woman he got engaged to runs away with her boyfriend. On both counts, he is the sufferer.
This is the basic plot of 'Ashoka Vanamlo Arjuna Kalyanam' but it dwells on capturing moments than telling a story. The film explores a couple of aspects – a family and their relatives stuck in a home due to lockdown (a comedy film 'Vivaha Bhojanambu' has the same theme), and caste issues, girl-child problems. Writer Ravi Kiran Kola and the director have tried to present the movie sensibly, but they have failed to avoid clichéd sequences. The first half of the film runs on usual comedy and lockdown issues.
Vishwak Sen and Rukshar Dhillon's romance has nothing much to offer. Rukshar's role reminds us of the elder sister of Shalini in Mani Ratnam's Sakhi.
But the moments worth mentioning take place in the second half, where Vishwak Sen and Ritika get themselves in a tangle. The final act is engaging. We should appreciate the writer for the point-of-view of Ritika'a character and her strong will. There are also certain dialogues about caste and society that reflect the reality.
Slow-pace and meandering narratives are the major issues of this movie. Despite the shortcomings, the film is a sensible attempt at telling a romance bereft of usual commercial elements.
I personally liked the final moments despite some issues. But the pace should have been racy.
Vishwak Sen holds the film with his sincere and relatable performance. He underplays the role. Newcomer Ritika Nayak is the heroine of the story. She steals the show. Rukshar is okay.
Among the songs, 'O Aadapilla' stands out.
Bottom-line: 'Ashoka Vanamlo Arjuna Kalyanam' relies on situations and actors than the plot. Though it doesn't work entirely, the slow-paced romance has its own moments. Has right sensibilities. It's a film that is better suited for OTT consumption than the theatres.
By: Jalapathy Gudelli
Rating: 2.5/5
Film: Ashoka Vanamlo Arjuna Kalyanam
Cast: Vishwak Sen, Rukshar Dhillon, Ritika Nayak, and others
Music: Jay Krish
Cinematography: Pavi K Pavan
Editor: Viplav Nyshadam
Producers: Bapineedu B and Sudheer Edara
Story, Screenplay, and showrunner: Ravi Kiran Kola
Directed by: Vidya Sagar Chinta
Release Date: May 06, 2022