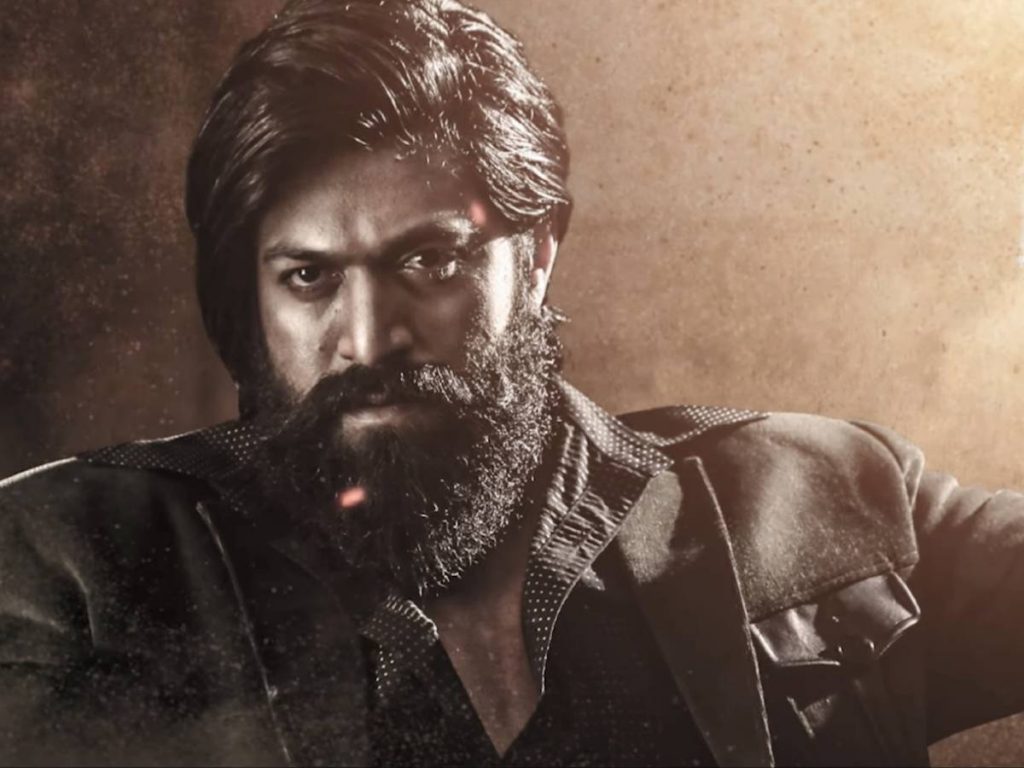 Before delving any further, we need to recall what the first part of KGF was all about, and how it became a pan-India success. 'KGF', directed by Kannada filmmaker Prashanth Neel and starring the rising Kannada star Yash in the lead, narrated the story of Rocky, a son of a poverty-ridden single mother, who becomes a savior to the workforce in KGF (Kolar Gold Fields). The first part narrated his rise in KGF and ended with the killing of Garuda, the son of the Narachi company owner. When Ramika Sen takes oath as the new Prime Minister of India in 1980, Rocky becomes the most-feared don or criminal.
Until the release of KGF Chapter 1, I have not watched any of Yash or Prashanth Neel's (Kannada) movies. I am sure the same is the case with the majority of Indian moviegoers outside Karnataka. Nevertheless, the film became a blockbuster in all regions and in all the languages it was released. Despite its familiar template of a poor youngster rising as a don, I was impressed by Neel's screenplay, editing pattern, and Yash's swag. The film struck a chord with the mass audiences and earned cult status.
Now, the second part, KGF: Chapter 2, is out in the theaters.
Rocky (Yash) is hoarding gold, exploring all mines in KGF. But Adheera (Sanjay Dutt) will not sit idly. He wages a war with Rocky. Initially, Adheera gets an upper hand. But Rocky being Rocky will not step back, he even goes to an extent of challenging the newly elected Prime Minister of India Ramika Sen (Raveena Tandon). Will Rocky emerge victorious in this new battle? Can he face the mighty Indian army and Prime Minister? That forms the basic plot of the second part of 'KGF'.
As we have seen in the first part, director Prashanth Neel loves to elevate the protagonist, not just once but for every opportunity, he also reveals many flashback moments further elevating the hero. But the first part is a classic story of rise of a don, with a mother sentiment. There was a proper arc for the hero's character. Coming to the second part, Neel has introduced another villain Adheera and other bigger forces for him to fight with. It's a straight out battle; the progression of the hero's character lacks dhum. The first part appealed more because he becomes a savior to people who were living like slaves in the Narachi Limestone Mining Company's empire. The classic story of a rebel inspiring others to revolt always works. That was the beauty of 'KGF Chapter 1'.
We all know that Rocky is invincible and clever. He is out to snatch duniya in his hands. It has already been established in the first part that such a formidable force will defeat any villain easily. So, when we get to see the same stuff of Rocky fighting with another set of villains, the excitement goes missing. We get to see more of Yash and his swag, his heroism. And more…
The film has nonstop action sequences. If there is not action episode, then there is a song or a dialoguebaazi moment. In a nutshell, Neel has focused more on mass moments, less on the content.
Moreover, Neel has little story to deal with. He also banks on powerful dialogues. In the very beginning, Yash talks about merit and denounces nepotism, an apparent dig at star kids. Such dialogues are good. But they don't add much to the overall story.
Furthermore, logic completely goes missing. When nearly hundred men fire their machine guns at Sanjay Dutt and his gang, not a single bullet touches Dutt's character. There is another scene where Rocky toting a gun, with his men enter the parliament hall. No security officer stalls him or his gang. When a doctor tells a mother that his son may die of pneumonia if he is not treated immediately, she delivers a lengthy dialogue for five minutes and declares that he would die as a Sulthan! Aww!!
Such crappy moments and logic less situations aside, Neel succeeds in gluing us to the screens with racy narration. The film holds our interest due to the immersive world of KGF, background score and the performance of Yash.
Yash owns the screen. He is more aggressive and more violent this time because "he doesn't like violence but violence likes him". The manly actor spews heroism with his demeanor in every scene. He wears flashy suits and looks handsome as well.
Sanjay Dutt as Adheera gets the menacing looks right, but his part is weak. More care seems to have been taken about his makeup than characterization. Raveena as Prime Minister is perfect. Rao Ramesh and Eeshwari Rao have done nothing new. Prakash Raj is there for the sake of commercial reasons.
Like the first part, the film has relied heavily on cinematographer Bhuvan and music composer Ravi Basrur. While Ravi lifts up the scenes with his pulsating music, the cinematography is the continuation of the first part. But the VFX is tacky. Despite the first part turning out to be such a massive hit, the makers have not spent much money on VFX. When Raveena Tandon waves at large crowds or helicopters hovering on KGF, we can clearly see how tacky the graphics are.
As a director, Prashanth Neel is good at elevating heroism. He pens dialogues that work with mass audiences.
Bottom-line: 'KGF Chapter 2' is high on mass elements, the elevation of heroism with Yash stealing the show with his terrific swag. It's a crowd-pleaser. However, the film lacks emotional heft.
Rating: 3/5
By Jalapathy Gudelli
Film: KGF Chapter 2
Cast: Yash, Sanjay Dutt, Srinidhi Shetty, Raveena Tandon, Prakash Raj
Cinematography: Bhuvan Gowda
Music: Ravi Basrur
Produced by: Vijay Kiragandur
Written and directed by: Prashanth Neel
Release Date: April 14, 2022