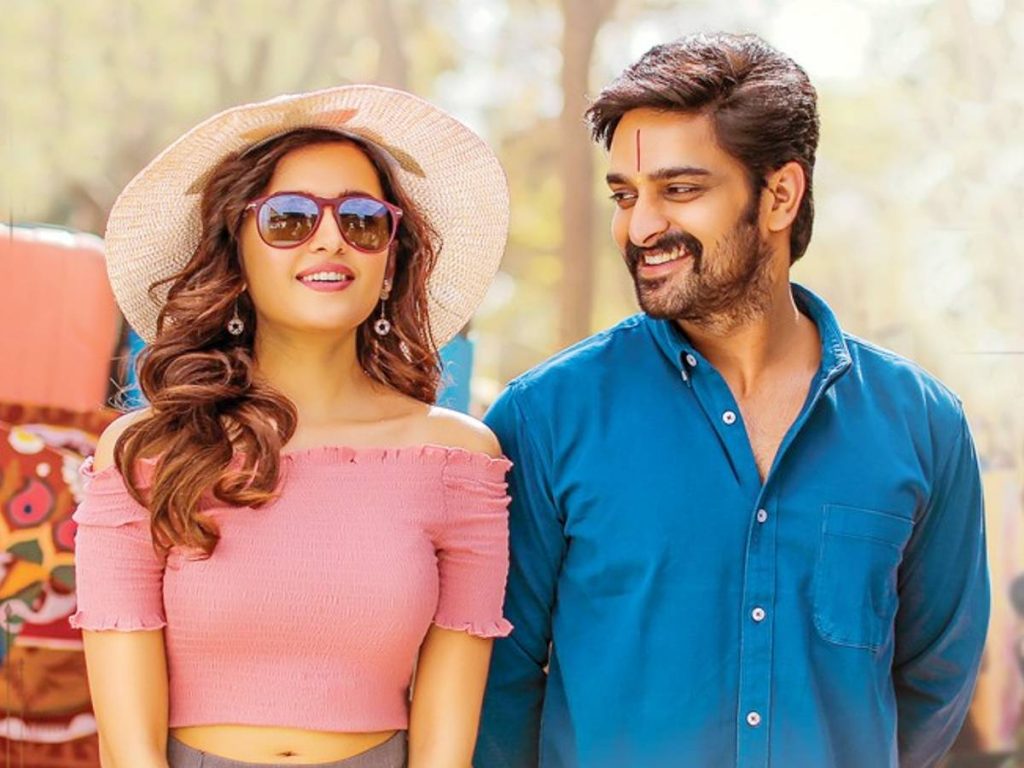 What's it about?
Krishna (Naga Shaurya) gets a job in Hyderabad. In his village, no girl looked at him due to his overpowering mother Amruthavalli (Radhika). No wonder he falls for the charms of his boss Vrinda (Shirley Setia) on the first day he joined the office.
Vrinda and her family are from North India. When Krishna proposes, she reveals her health condition that she cannot conceive children. Knowing well that his parents would not accept a girl who cannot give them a grandson or granddaughter, he comes up with a 'story' that he got injured in the groin and his 'vital organ' was severely affected.
He lies to her mother that Vrinda agreed to marry him despite his condition. What problems would he face due to this one lie?
Analysis
In June, we have seen Nani's 'Ante Sundaraniki' dealing with a story of a female protagonist suffering from ovarian issues and a hero lying about her condition for their marriage. Now, we have 'Krishna Vrinda Vihari' talking about the same way. The only difference is that 'Ante Sundaraniki' also focussed on Hindu-Christian differences.
Either the directors of 'Ante Sundaraniki' and 'Krishna Vrinda Vihari' got the same idea at the same time or got inspired by some foreign movie.
The conflict, the lies, and the drama are almost similar. But the writer and director Aneesh Krishna has done some changes to the second half of 'Krishna Vrinda Vihari' that drives on a different path. This film tries to provide laughs by hook or crook.
While the initial portion is a tad boring, the latter is entertaining. The second half of the film offers coherence and entertainment. While focusing on comedy, the film misses the emotional core. Many scenes look amateurish as well. The IT office sequences are executed with low standards. The fights don't gel with the theme at all. Only entertainment works.
​Performances are neat. Naga Shaurya does a double act in a single role. Appearing as a traditional rural Brahmin boy in some sequences and working professionally in other parts of the movie, he scores. Shirley Setia, who makes her Telugu debut, fits the character well.
Radhika as Naga Shaurya's mother is first-rate. The output of the technicians is okay. While music is pretty average, dialogue writing has some sheen.
Bottom-line: Despite its similarities with Nani's 'Ante Sundarniki', 'Krishna Vrinda Vihari' tries to offer some laughs of its own. Except for entertainment and a couple of sequences in the second half, this is a passable rom-com.
By: Jalapathy Gudelli
Rating: 2.75/5
Film: Krishna Vrinda Vihari
Cast: Naga Shaurya, Shirley Setia, Vennela Kishore, Radhika, and others
Music: Mahati Sagar
DOP: Sai Sriram
Editor: Tammiraju
Art: Ram Arusuvilli
Producer: Usha Malpuri
Screenplay, directed by: Anish R Krishna
Release Date: Sep 23, 2022