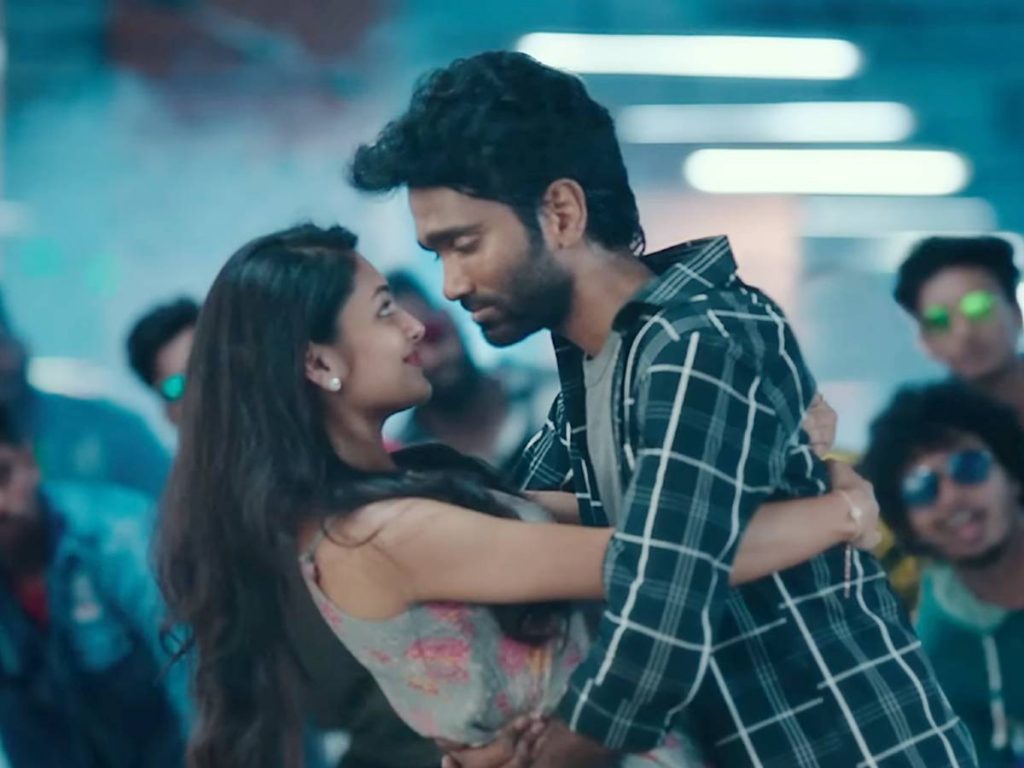 What's it about?
Nikitha is in a relationship with Uthaman Pradeep (Pradeep Ranganathan), an IT employee (Ivana). Knowing Nikitha is seeing someone, Nikitha's father Sastri (Sathyaraj) requests that she bring Pradeep to their home. Much to their surprise, Sastri agrees to their marriage. He does, however, impose one condition.
Pradeep and Nikitha must exchange their phones immediately for one day. If they still feel that they are in love even after seeing chats and checking other apps on their lover's phone, Sastri says he would agree to their union. Both reluctantly concur.
He comes across some chats Nikitha had with her male friends while browsing Nikitha's phone, and the more he digs, the more his mind boggles.
So, how about Pradeep? What secrets will Nikitha learn from his browsing history?
Analysis
I went into "Love Today," a Telugu dubbed Tamil film, with no expectations. I didn't read any reviews, and I'm not familiar with the film's actor and director, Pradeep Ranganathan. It doesn't take long for me to realise that the director chose a trendy setting and a contemporary conflict point. Furthermore, his narrative style is both wacky and chic.
I'm completely hooked on the story after only 15 minutes. For it contains hilarious moments. Second, the situations are all too familiar.
In 'Bommarillu,' Genelia visits Siddhu's home for a few days in order to better understand him. The condition in 'Love Today' is that they exchange their cellphones. A seemingly simple concept, but it leads to a plethora of amusing situations. The film's main strengths are its screenplay by director Pradeep Ranganathan and its excellent editing. Pradeep shows a mirror to today's youth's phone habits, the influence of social media apps on our daily lives, and today's dating trends in many of the scenes.
To demonstrate this in a modern setting, the director begins the story with a young boy planting a mango seed in the ground. He does not allow it to grow. The scene conveys the message that one should have faith and trust in others. While the director focuses on the problems of the lead couple, he includes a subplot about another couple, the hero's sister and her fiancé. Their graphs blend beautifully to convey a positive message.
Though some scenes, such as Pradeep sitting on a toilet and scrolling through the history of his girlfriend's Instagram chat, are a little out of place, the majority of the scenes are hilarious.
There isn't a single dull moment in the first half. It sags a little after the interval. Furthermore, the hero frequently disparages the heroine.
Pradeep Ranganathan plays a youngster who looks and acts like Dhanush. However, he is extremely convincing and believable in the role. He keeps the show going with his acting until the end. Ivan as Nikitha is also a good choice. Another pillar of the film is Sathyaraj as Venu Sastry. As is Radhika Sarathkumar, the hero's mother. Yogi Babu and Raveena both play their roles well.
Music director Yuvan Shankar Raja and editor Pradeep Raghav deserve special mention among the technicians. They have done their best to give the film a trendy look. Pradeep's directing and writing abilities prove that he's a talent to watch out for.
Bottom-line: 'Love Today' is hip and funny. A film about the problems and lives of today's youth. The film recharges your batteries with a slew of fun filled moments.
Rating: 3/5
By Jalapathy Gudelli
Film: Love Today
Cast: Pradeep Ranganathan, Ivana, Sathyaraj, Yogi Babu, Radhika Sarathkumar, Raveena and others
Music: Yuvan Shankar Raja
DoP: Dinesh Purushothaman
Editor: Pradeep E Ragav
Written and Directed by: Pradeep Ranganathan
Release Date: Nov 25, 2022