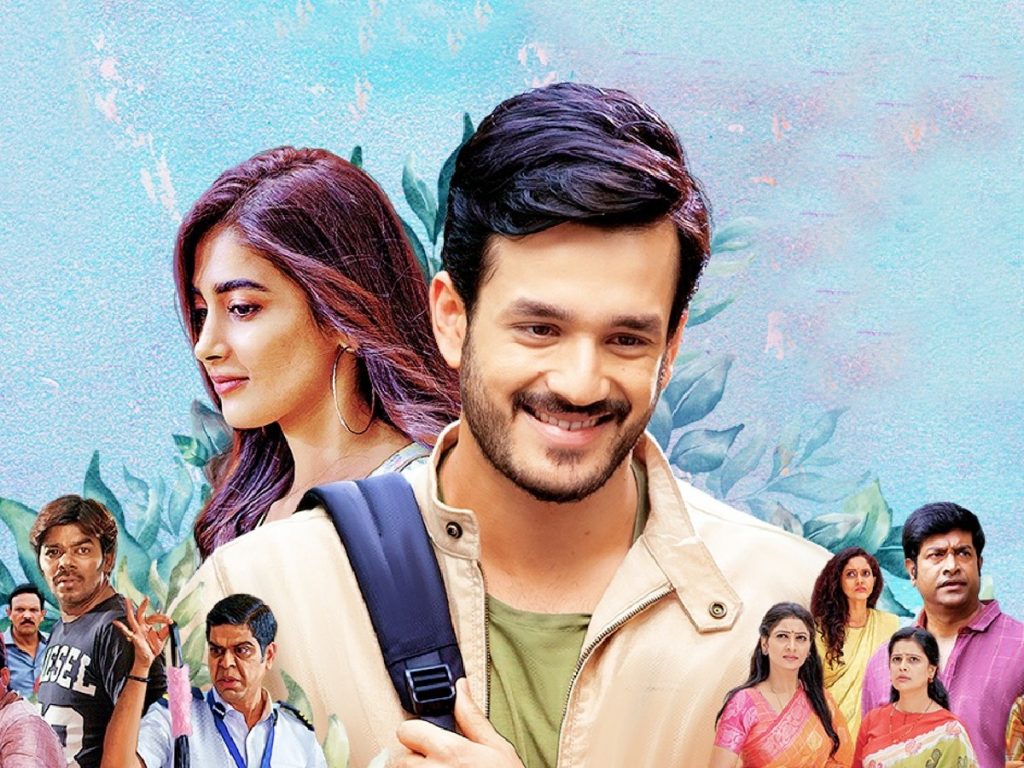 What's it about?
Harsha (Akhil) works in New York City. He has a high-paying job, a house, and a seemingly well-settled life. All he needs is a wife to complete the circle of happiness. He comes down to Hyderabad. In 20 days, he will have to find the right girl among the many marriage alliances his parents have readied for him. The alliance of Vibha (Pooja Hegde) is rejected by his parents even before he sees her as their horoscopes have not matched.
But fate brings them together. He falls for her bold and refreshing attitude and her stand-up comedy act. Yes, she is a stand-up comedian. How will Harsha and Vibha find their true love over many months?
Analysis
"What do you expect from married life," Vibha, played by Pooja Hegde, asks Harsha when they first meet. Akhil's Harsha replies many answers, but she feels bored with predictable lines. She asks him to find the answer, hinting that she would fall for him if he gets it correctly.
Even as he meets several women at the matchmaking events his parents arranged, he thinks about her. His journey of finding that answer and making Vibha realize that he is the 'one package' that she wants for a husband is 'Most Eligible Bachelor' all about.
On paper, the one-line story looks interesting. But it is presented in a confused manner. 'Bommarillu' Bhaskar has returned to film direction after a long gap, and his latest outing also falls in the genre of rom-com. The director has seen many flops in recent times. To gain form, he has chosen the same template of 'Bommarillu', the biggest hit in his career, to weave this screenplay.
The film begins similarly to 'Bommarillu', wherein the hero narrates his story to the person who gives him a lift on the bike. Here, a couple the hero met on the road listens to his story. Like in most of Bhaskar's movies, the hero is a confused person. The director also seems to have confused about his plotline as the two halves of the film are in contrast to each other.
The first half is completely devoted to the various alliances he attends, his brief interaction with heroine Pooja Hegde. The second half changes tracks (In a way, the first half has similarities with 'Shaadi Mubarak', and the second half follows Akhil – Vikram Kumar's 'Hello' method).
This confusion pervades throughout the movie. Can anyone fix a wedding date and search for alliances? Hero's parents do all shopping – including clothes, jewelry, and everything even before a match gets fixed. Vennela Kishore appears in the story suddenly in the second half. Where was he hiding before interval? His 'gay' act has no meaning to the main story.
Presenting as a female protagonist as the stand-up comedian gives a fresh vibe to an otherwise story filled with clichés. Plus, in Bhaskar's usual style, we also get a lengthy preachy scene in the end about the idea of romance. He tells everyone to express their love towards their partners.
However, 'Most Eligible Bachelor' offers some fun moments and has a lilting soundtrack. If not for a couple of songs and some romantic moments, the film would have become quite boring.
Both Akhil and Pooja Hegde fit in their roles perfectly. Pooja Hegde mesmerizes in some parts. On the technical front, Gopi Sundar's music is the main highlight. 'Leharaayi', and 'Guche Gulabi' stand out.
Bottom line: 'Most Eligible Bachelor' looks patchy, and goes all directions but Gopi Sundar's lilting songs and feel-good romantic moments save it.
Rating: 2.75/5
By: Jalapathy Gudelli
Film: Most Eligible Bachelor
Banner: GA2 Pictures
Cast: Akhil Akkineni, Pooja Hegde, Vennela Kishore, Esha Rebba, Faria
Music: Gopi Sundar
Cinematography: Pradeesh M Varma
Editor: Marthand K Venkatesh
Art: Avinash Kolla
Producers: Bunny Vaas, Vasu Varma
Directed by: Bommarillu Bhaskar
Release Date: October 15, 2021