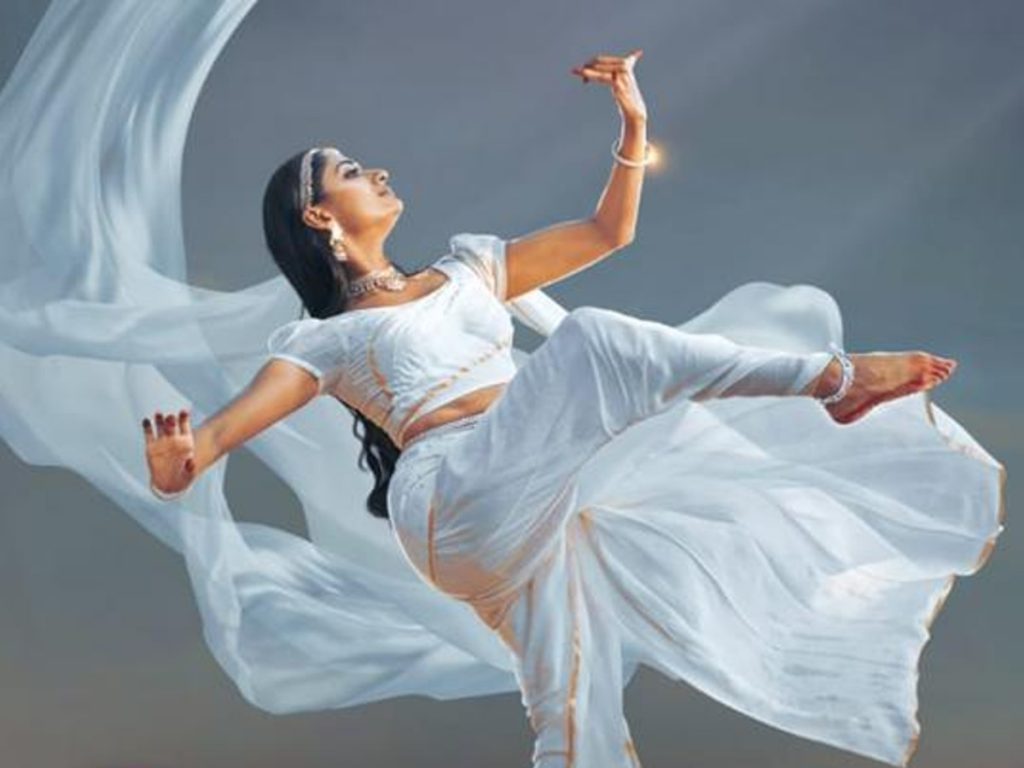 Perhaps, no other film industry has produced as many great movies on classical Indian dance as the Telugu film industry had done. K Vishwanath's classics such as 'Sagara Sangamam' and 'Swarna Kamalaam', and Singeetam's 'Mayuri' represent the best of this genre. Post economic reforms in 1991, the lifestyles have gone for the drastic change in India. So have movies. Films on classical dance have stopped coming.
After many years, Sandhya Raj, a renowned Kuchipudi dancer, has produced and acted in a dance movie named 'Natyam', which is in the theaters now. As the title suggests, it is all about dance.
The story begins in the present day in a village, where a young girl Sithara (Sandhya Raj) gets trained in classical dance in a school run by a guru (Aditya Menon). At a very young age, he tells her Natyam means narrating a story. Despite her guru's warnings, Sithara is determined to tell the story of Kadambari, whose legend is linked to her village and a temple.
Will Sithara succeed in staging the Kadambari story? What is the story of Kadambari, who was killed many decades before Independence?
A film that tackles superstitions, and depicts the dying culture of classical dance performances in temples, 'Natyam' has good intentions, but the narrative is boring. The entire film is presented in a stagy, old-school manner.
Barring songs and dance episodes, all sequences test our patience. With its absurd situations, theatrical moments, and lack of contemporary touch, it has an old-school feel. The romantic thread between Sandhya Raj and Rohith Behal gives proof of how bad the writing is. There are scores of flaws, but the lethargic pace with the tedious narrative is the main villain.
Sandhya Raj has played two varied roles in the film, but both of them are dancers. She excels in dances. Kamal Kamaraju also shows off excellent dancing skills in a temple song.
Shravan Bharadwaj's work is commendable. His music is the major highlight, with "Poni Poni" standing out among the pack. Newcomer Revanth Korukonda has written, edited, photographed, and directed the film. Instead of doing many jobs, he should have focused on coming up with a better narrative. However, he has filmed couple of songs lavishly and tastefully.
Bottom-line: 'Natyam', a film on classical dance forms and superstitions, is narrated in an uninteresting manner. It tests the patience.
Rating: 1.75/5
Film: Natyam
Cast: Sandhya Raj, Kamal Kamaraju, Adithya Menon, Rohith Behal,
Music: Shravan Bharadwaj
Producers: Sandhya Raj
Story, Camera, edit, and direction: Revanth Korukonda
Release Date: October 22, 2021