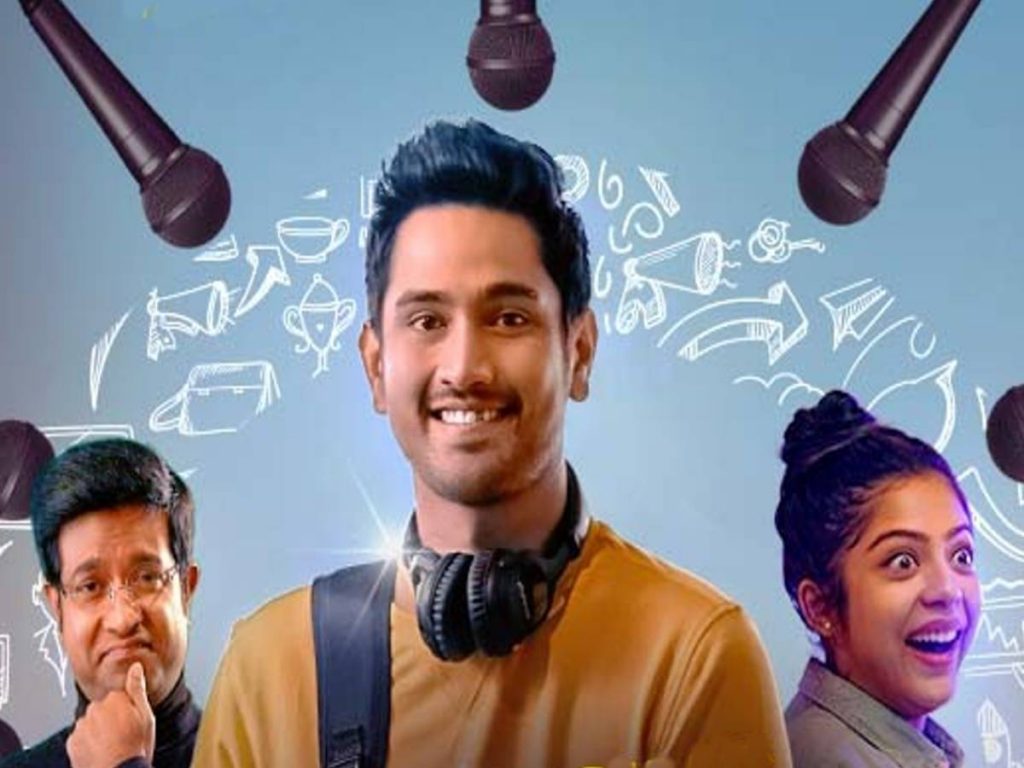 What's it about?
The profession of Rahul (Raj Tarun) is creating virtual reality. But his passion lies in standup comedy. As his mother (Indraja) is dead against him pursuing his passion, he decides to stick to his job. His father (Murali Sharma) is an unsuccessful movie director. His mother and father have parted ways long back.
His school friend Shreya Rao (Varsha Bollamma) also gets a job in his company in Hyderabad. After initial misunderstandings, they start liking each other. Since Rahul has developed an aversion to marriage after seeing his parents, she agrees to have a live-in relationship with him, hoping that he'd change his mind soon. Will Rahul change his mind about marriage? Will he stand up and own responsibilities?
Analysis
The trend of lead actors playing standup comedians is slowly catching up in Telugu cinema. Pooja Hegde did the same in 'Most Eligible Bachelor'. Raj Tarun's 'Stand Up Rahul' is the only second Telugu film that has standup comedy at the center of its story. No doubt the backdrop is refreshingly new. For a change, Raj Tarun has also appeared in a trendy urban avatar, far away from his regular image of the rural boy-next-door.
Essentially, 'Stand Up Rahul' is a coming-up-age drama that also drives the point that relationships work only one owns up responsibilities that come with it.
Before coming to the main point, the film, as expected, meanders in many directions. Plus, toilet humor should have been avoided. There's a prolonged comedy sequence (for nearly 10 minutes) set in a toilet.
It begins by establishing Raj Tarun's character, his family issues, and his love track with Varsha Bollamma. On the other hand, the film also establishes that Varsha is a dreamer. She dreams of a 'picture-perfect life'. She strongly believes in the trope of rom-com: And they lived happily ever after. A girl who dreams of love marriage and a boy who believes marriage may spoil love begin living together is the basis for this story. We can easily guess what happens thereafter.
While the setting is contemporary, the narrative is not. In the initial moments, jokes have failed to evoke laughs. But post the interval, the standup comedy and a couple of emotional sequences have worked out well. Are they enough to engage us till the end? No. The climax turns out to be clichéd and makes this film a regular rom-com that offers nothing new except for the setting and a few moments.
Raj Tarun has done his part well. He does convincingly in the latter part of the movie. He has tried to be trendy. Varsha Bollamma appears in another regular role. Her character arc lacks effectiveness. Among other roles, Indraja as mother makes her presence felt. Murali Sharma is okay.
The cinematography and artwork stand out. The film has a glossy appearance. Songs are weak.
Some standup comedy dialogues have worked but the dialogue writing should have been more sharp and trendy. Director Santo gets parts right but doesn't get the entire act well. It's time that filmmakers come out of the influence of the 'DDLJ' ending.
Bottom-line: 'Stand Up Rahul' is a rom-com laced with standup comedy. Some parts work, and most parts don't. It gets its act 'up' only a couple of times, goes down mostly.
Rating: 2.25/5
By: Jalapathy Gudelli
Film: Stand Up Rahul
Music: Sweekar Agasthi
DOP: Aneesh Trun Kumar
Editor: Raviteja Girijala
Producer: Nandkumar Abbineni, Bharath Maguluri
Written and Directed by: Santo
Release Date: March 18, 2022