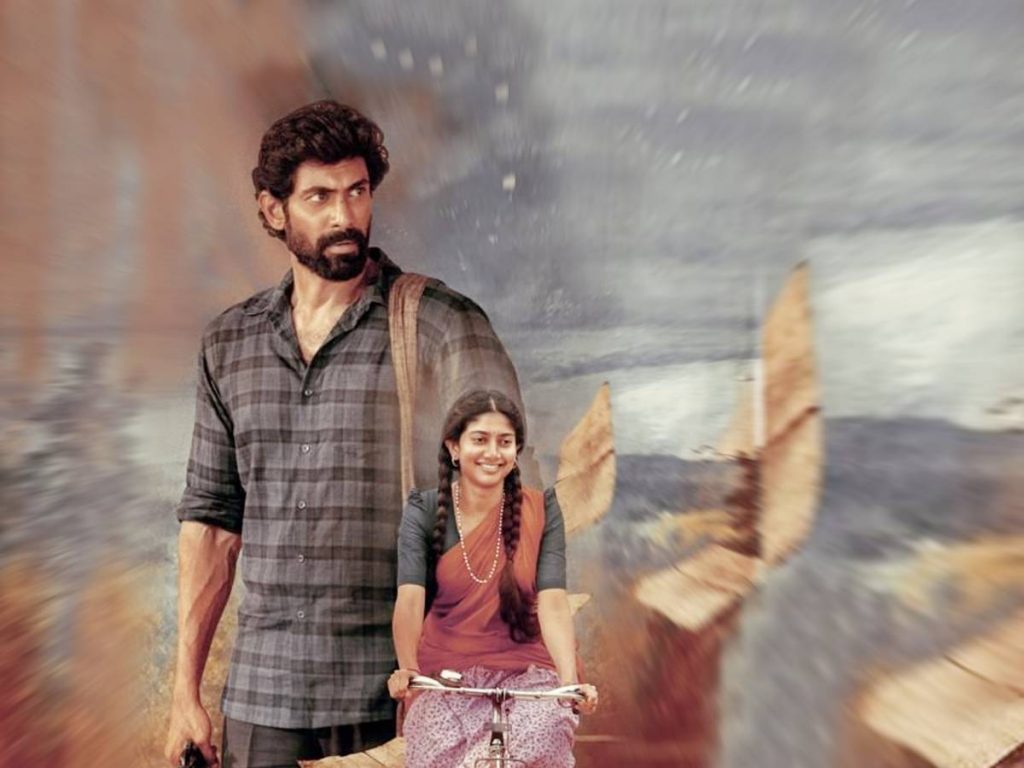 What's it about?
The 1990s. Telangana. Daughter of a voggu katha exponent, Vennela (Sai Pallavi) gets drawn to the poetry of Ravanna (Rana Daggubati), a Naxal commander whose pen name goes by Aranya. Not only does she admire his inspiring poems, but she also starts loving him after knowing and seeing his revolutionary activities.
Inspired by the Meera Bai's story her father narrated, Vennela leaves her home in search of finding Ravanna who operates with his 'Dalam' in a deep forest. After facing many hurdles, she finally meets Ravanna and expresses her feeling toward him. Being an idealistic Naxal leader who dedicated his life to the cause, Ravanna dismisses her love and admonishes her.
To what length does Vennela go to win him in that troubled terrain and period? Will she finally get what she wanted?
Analysis
Four years after he impressed us with his debut feature 'Needi Naadi Oke Katha' director Venu Udugula chose a very different story for his second film. 'Virata Parvam' is his new directorial that is based on incidents he saw in his hometown during his college days, and a Warangal woman named Sarala inspired the story.
Set in the 1990s, 'Virata Parvam tells the story of a Telangana rural girl who embarks on an extraordinary journey to meet a Naxal leader with whom she had fallen in love. We have seen Mani Ratnam's 'Dil Se' in which the male protagonist played by Shah Rukh Khan follows a liberationist woman (Manish Koirala) to win her love. In 'Virata Parvam', the female protagonist takes a similar journey, though the two films are different from each other.
Essentially, 'Virata Parvam' falls in the genre of a tragic love story but director Venu Udugula has tried documenting the turbulent period in Telangana with much sincerity and honesty.
Films that have dealt with Naxalism are not new to us, but Venu Udugula places the story from the perspective of women. The stories of a mother who is waiting for her son to return home as he left her for fighting the cause, and a human rights activist who lost her husband in the same fight believing that she continuing her husband's idealism make this film a different from earlier films.
In one scene, Rana's mother, played by Zarina Wahab, tells him, "Shanti tupaki gottamlo ledu, aadapilla premalo undi" (You don't get peace with a gun, but with the girl's love). In another scene, Sai Pallavi's father confesses to her that he understands her path and tells her that society always derides if one takes a new path.
Venu Udugula's poetic touch and his honesty come alive in such sequences. He has used poetry excessively to narrate this story, which may not work for the majority of the regular audiences.
Despite some reservations about this film, two aspects impressed me very much – Sai Pallavi's acting and the conclusion of the story. The climax is its soul.
The director has avoided the temptation of falling into commercial trappings to tell this story. Still, the middle act of the film is far from appreciable. It gives a déjà vu feel in these portions. Plus, Rana's character is flat. The encounter sequences have not been handled properly. Such issues and the middle portion have lessened the impact.
We all know Sai Pallavi switches into any role that she undertakes like a glove. She has loved Vennela's character. She delivers a mesmerizing performance. She dominates the entire show.
Rana suits well, but his look has inconsistency due to his health problems in the middle of the production. The stellar cast of the film which includes Nandita Das, Sai Chand, Priyamani, Rahul Ramakrishna, and Zareena Wahab have delivered excellent performances.
Among the technicians, cinematographers, and music director have put in their best talents. The action sequences lack the impact, especially the encounter episodes lack dhum.
As a writer and director, Venu Udugula's sincerity is appreciable.
Bottom-line: 'Virata Parvam' is an unflinching look at 90s Naxalism in Telangana and paints the women's stories in a conflict period. The film doesn't entirely engage us. The film doesn't entirely engage us, and the middle portion goes helter-skelter. Yet, it is an honest effort from director Venu Udugula. Sai Pallavi's sterling performance towers over. It's a niche film and may appeal to people who love serious cinema.
Rating: 2.75/5
By: Jalapathy Gudelli
Film: Virata Parvam
Cast: Sai Pallavi, Rana Daggubati, Nandita Das, Sai Chand and others
Music: Suresh Bobbili
Cinematography: Dani Sanchez-Lopez, Divakar Mani
Editor: A Sreekara Prasad
Producers: Sudhakar Cherukuri
Written and Directed by: Venu Udugula
Release Date: June 17, 2022