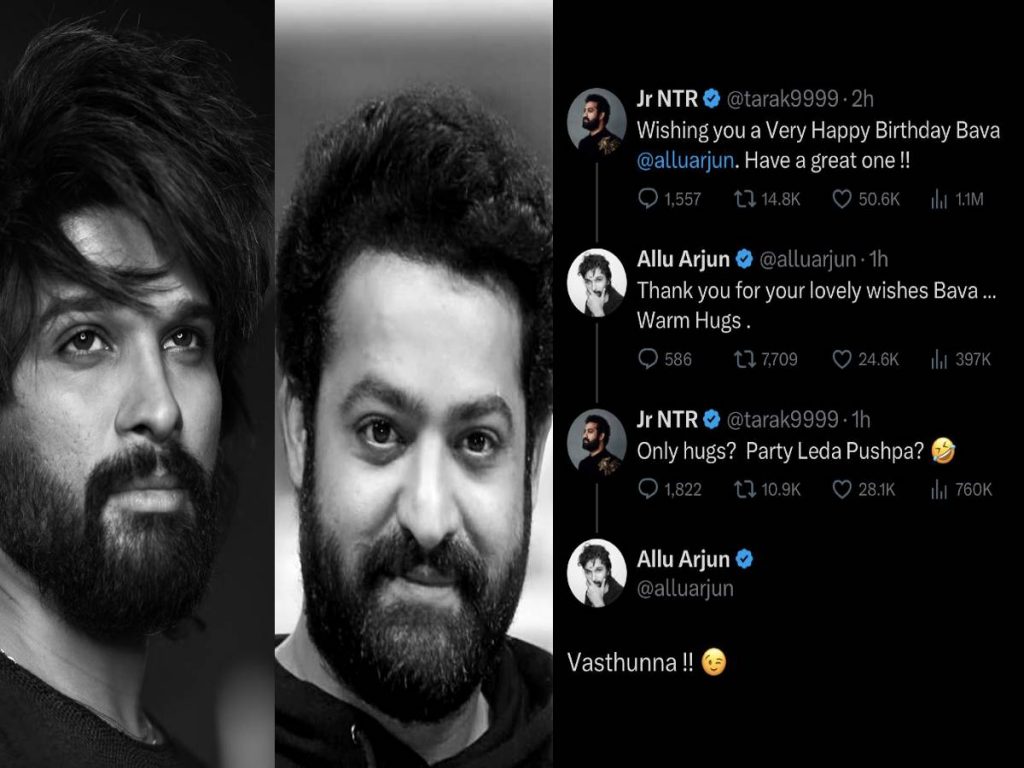 NTR and Allu Arjun have a close friendship. They refer to each other as "bava." NTR took to Twitter today to wish 'Icon star' Allu Arjun a happy birthday.
"Wishing you a Very Happy Birthday Bava @alluarjun. Have a great one!!," NTR wished Allu Arjun. And Allu Arjun responded, "Thank you for your lovely wishes Bava … Warm Hugs."
It did not stop there. NTR quickly responded by posting one of Allu Arjun's 'Pushpa' dialogues. "Only hugs? Party Ledha Pushpa? "Don't you throw me a birthday party?" NTR asked.
This NTR tweet went viral. Fans of both NTR and Allu Arjun erupted with joy upon witnessing their friendship. NTR's fans even made it a Twitter trend. Fans of Allu Arjun thanked NTR for his sweet posts.
In response to NTR's 'party ledha pushpa' response, Allu Arjun posted 'Vastunna' (coming).
When "RRR" won the Oscar for Best Original Song, Allu Arjun said in his congratulations that NTR is "our Telugu pride." NTR praised Allu Arjun's performance in 'Pushpa' as well.